How A Thai Would Spend 4 Days in Isan, Northern Thailand If Never Been Before
The saying goes if you haven't been to these holy places, You haven't been to Isan. Well, so the Thai's tell me. This trip was planned by Luna as has been on her bucket list for some time.
We flew into Udon Thani for a 4 day holiday to visit an auntie who enjoys living in a temple with the monks. She picked us up at the airport and took us a couple of the surrounding sights. Following dropping her back at the temple that evening we borrowed her car to go explore some of the famous sites around Northern Thailand along the Laos border. You could easily combine a similar trip with a trip to Laos as there are 2 friendship bridges and multiple boat crossings. We were not prepared with sufficient paperwork of car ownership and visa for myself so we just explored to the Mekong River border in Thailand.
We were lucky enough to have use of a car for free. If you are renting one make sure you have appropriate licences. For Australians, we require an international permit as well as our original Australian licence card. We were stopped 2 times Isan once just licence check and the other was I was going to fast.
Appropriate clothing
If you are planning to visit temples remember to wear polite clothes and to cover their shoulders and wear something long to cover your knees. Alternatively, you could take a sarong with you for when entering holy places. Or 2 one for over your shoulders and waist.

I was wearing a rude shirt a couple of days because ran out of clean ones but I kept a polite one in the car and just put over the top when visiting.

Red Lotus Lake

From Udon Thani airport we drove just under 1 hour to Red Lotus Lake. We were offered a boat ride for 4 people for 500 baht which would last about 2 hours and take us out further to see the best parts. The best time to come and do the boat ride is just before sunrise about 6 am as this is when the flowers open up and are at there best but before 11 am as the sun gets too hot and they tend to close up. It was not the best season either so just skipped the boat trip. The Ideal time to go is December – February
There was a rainbow-painted bridge here which made a good photo stop. We ended up visiting another Lotus pond later on in the trip can read about it below.
Rotary Sun Clock Thai/Korean
Just over the other rainbow bridge a 2-minute walk there is a rotary club sun clock.
The translation in general says:
Memorial between Thai rotary club and Korean rotary club
Its a community economic development project to enhance community living for Kumvapee village, Sakon Nakhon province
Wat Kham Chanot
From Red Lotus Lake we drove another 1 hour 40 mins to Wat Kham Chanot. On the drive to this temple, there are a lot of offerings like I have never seen before from little stalls along the road. Such amazing crafting made from plants in a range of sizes starting as low as 40 baht up to few thousand baht. We bought one for us and one for our friend who knew we where going wanted us to buy one for them.
When entering the temple there is a large Naka Statue at the beginning of the bridge. First, you must remove your shoes. They Say your luck will only come true if you touch the statue from the head to the tail without letting go. Yes, it's a few minutes walk as you can see behind in the photo below.
When parking the car someone sold us 2 small plastic bottles for 20 baht so we could take some holy water home with us. Unfortunately, we had no checked luggage and was confiscated at airport security.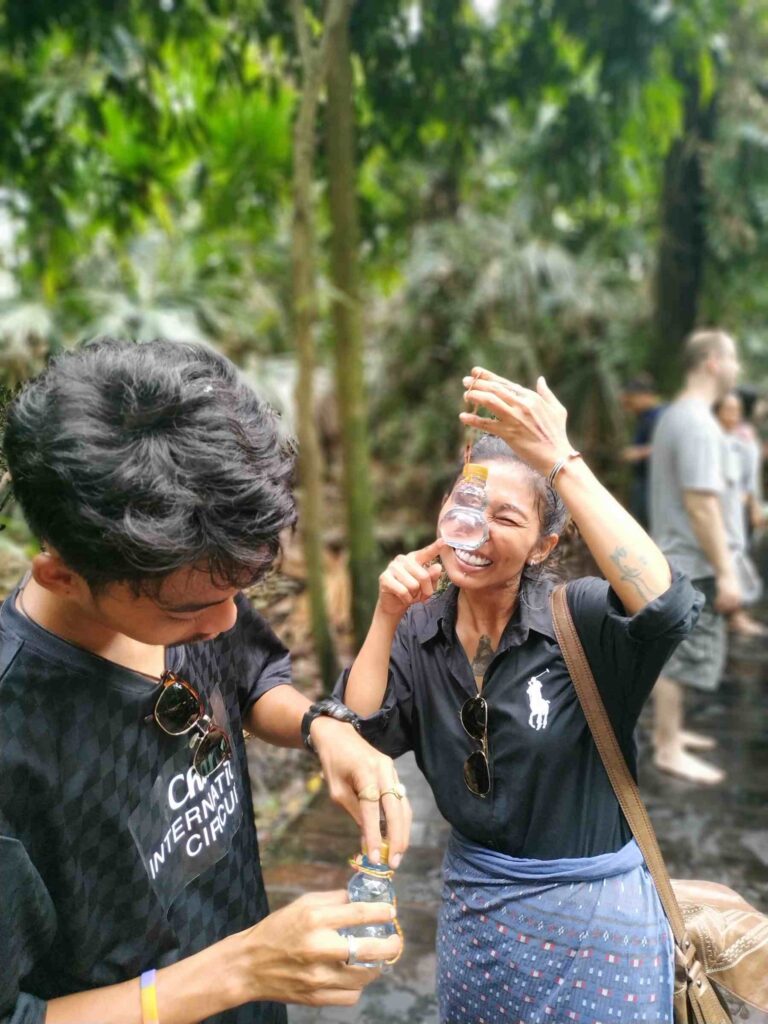 They also allow you to wash away your sins by pouring water over you there too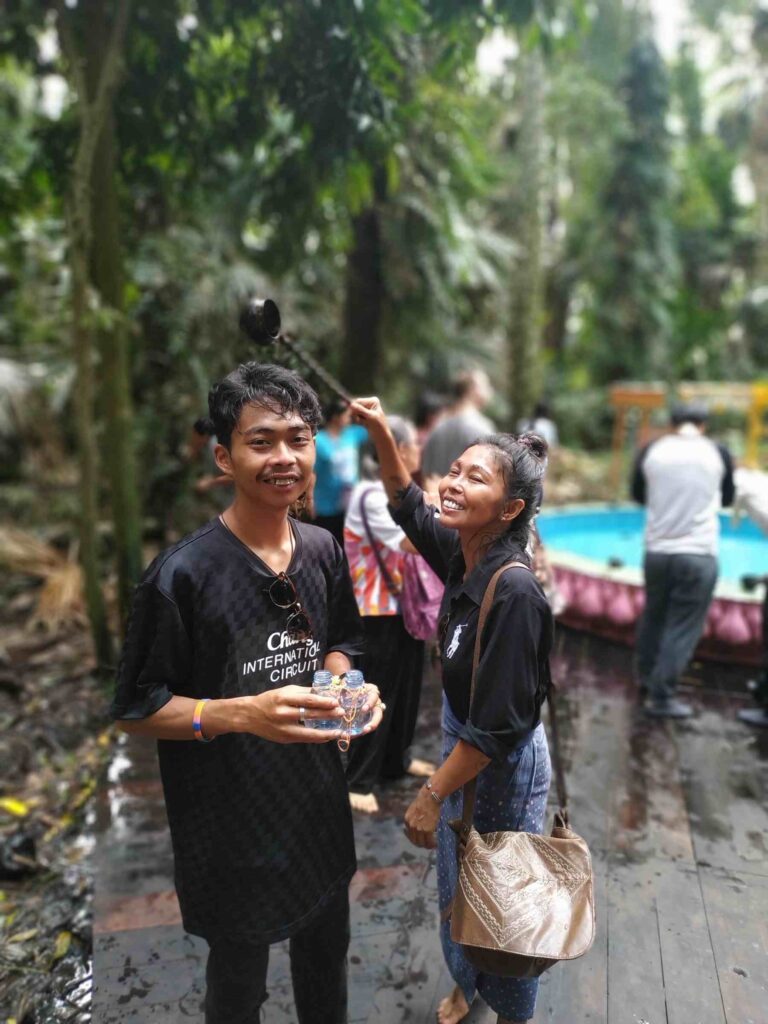 The beliefs that Thai people have of Naka would come from India in many ways. Just like the Thai script that was adapted from India hundreds of years ago.
They believe that Naka is the god of water and able to inspire fortune and fertility. They offer flowers also known as Baisi for the chance of the winning lottery numbers or the chance to a bare child.
You will see Thai people scratching the tree or pouring powder (not allowed) onto the tree trying to find a reference to numbers. They believe these numbers are lucky for the lottery!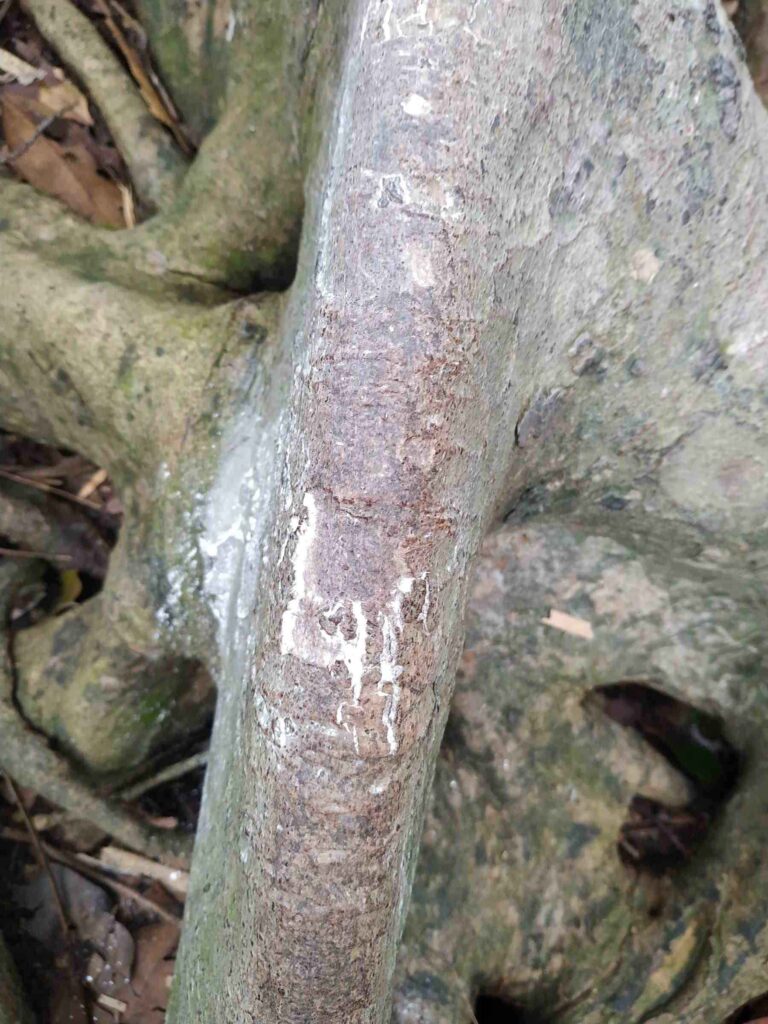 A Modern Buddha Pagoda -พระบรมธาตุเจดีย์ศรีมงคล

From red lotus lake, we drove about 90 minutes to this recently finished pagoda. As we got close could see it across the lake from the main road.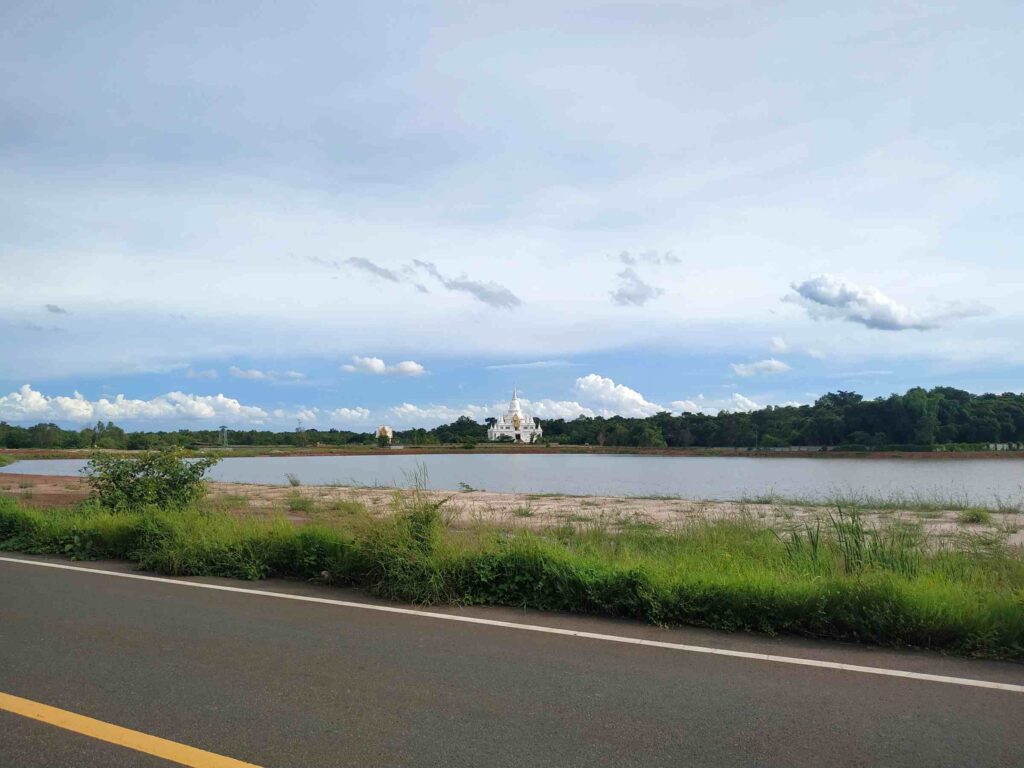 Upon entering you are greeted by 2 golden lions
As you enter the pagoda be careful as the tiles seemed quite slippery near the entry.
After looking around & praying on the bottom floor you can climb the stairs out the back and view again from the 1st floor.
After you can actually climb some more stairs at the back and there is a small museum of old artifacts and treasures to view above.
Small Naka Shrine By River
Next to the river a short walk there's the neka (snake god) shrine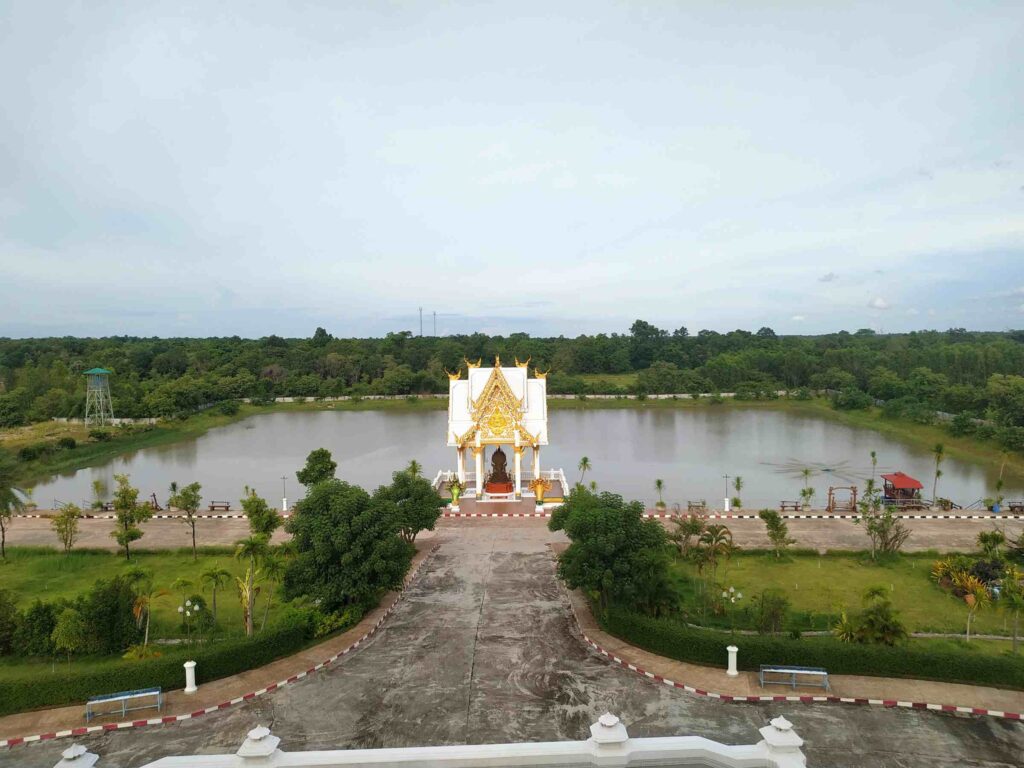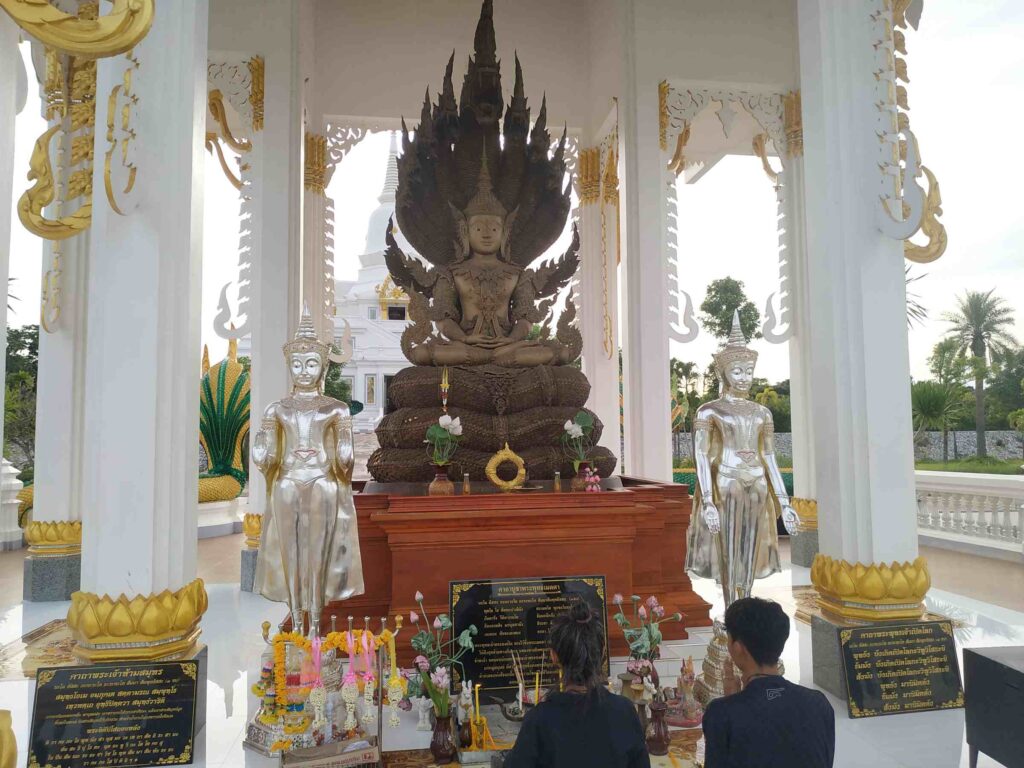 Feed The Fish
There were some ladies with a small store near the bathrooms at the entrance. They sell bread and seeds that you can go over and feed the fish from the sala (Gazebo). We bought about 4 loaves of bread and 8 of fish food and there was no shortage of fish going crazy for the food.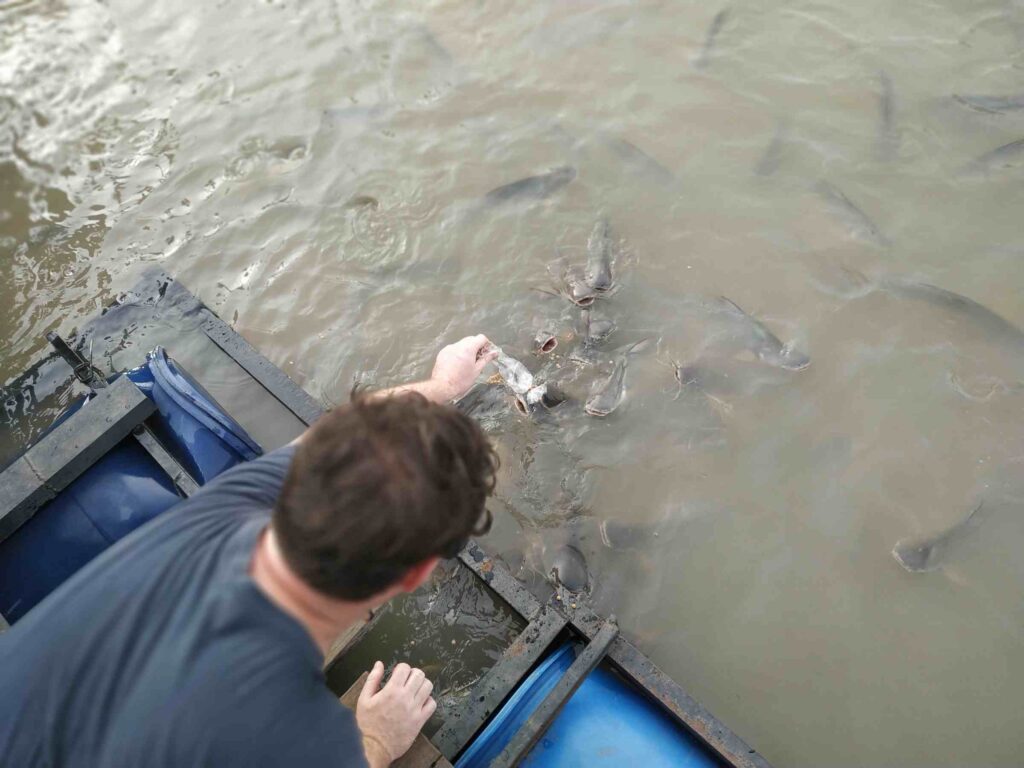 It is not allowed to go fishing or catch the fish within the compound of any temple.
Hotel stay at Chom Dao Hotel & Resort – Sakon Nakhon
After dropping auntie back at the temple we headed to the closest town for some dinner which wasn't special enough to even mention and find a hotel close by. We chose Chom Dao Hotel as the price was incredible for what the photos showed. The only had one standard room (340baht) and 1 bungalow (425 baht) so we took them both. In Aussie dollars, that's $16 & $20
For full review and photos check this post
The Next Morning, Breakfast with the Monks
As a westerner, this was quite a unique experience that was very far from the main touristy temple visits. The head monk who is apparently very holy and famous in Thailand talked with us for about an hour after they finished there 1 meal of the day. The monks in this temple only eat once a day although some other monks in different temples may eat twice a day.
It is custom for Thai people to go to the temple on their birthday. One monk asked us if who's birthday it was thinking that's why we came.
Anyone can eat with the monks but how?
Auntie explained to us we would have to arrive at the temple before 6 am with an offering of food. This food can be anything you make or buy along the way. We managed to buy 2 whole grilled chickens close to our hotel.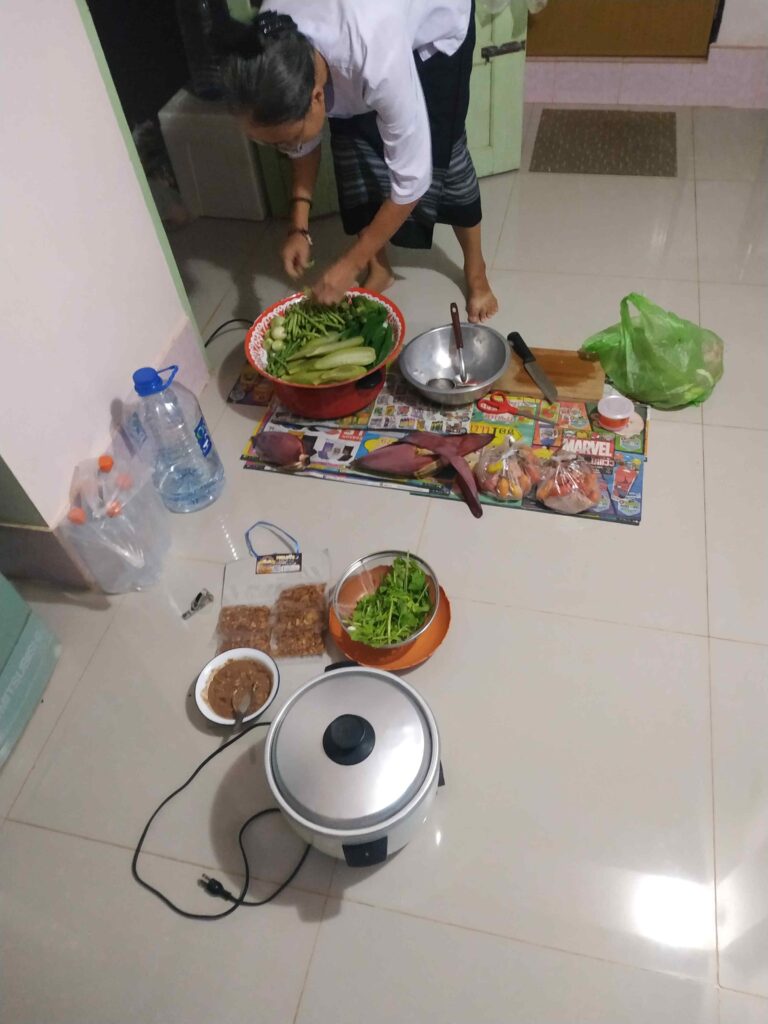 At the first sign of light, the monks leave the temple and walk around outside the temple seeking donations of sticky rice from the local villagers. As the sun was starting to come up around 6:10 am the 4 monks returned with there sticky rice offerings and placed there bowls on display, prayed and then sat down.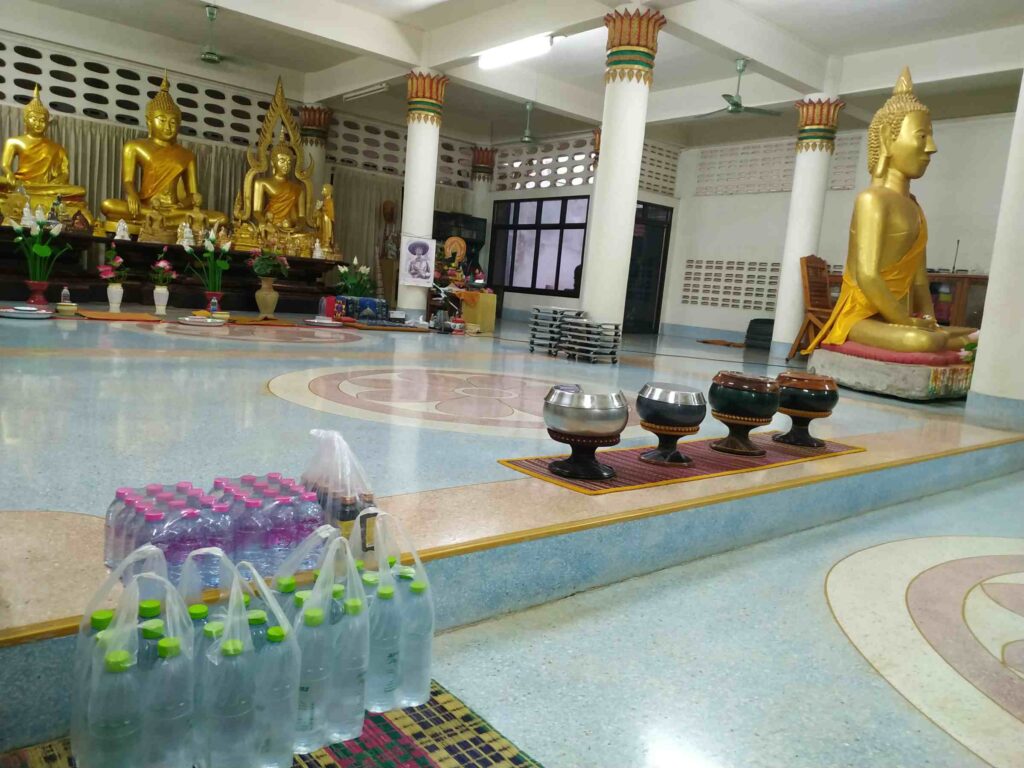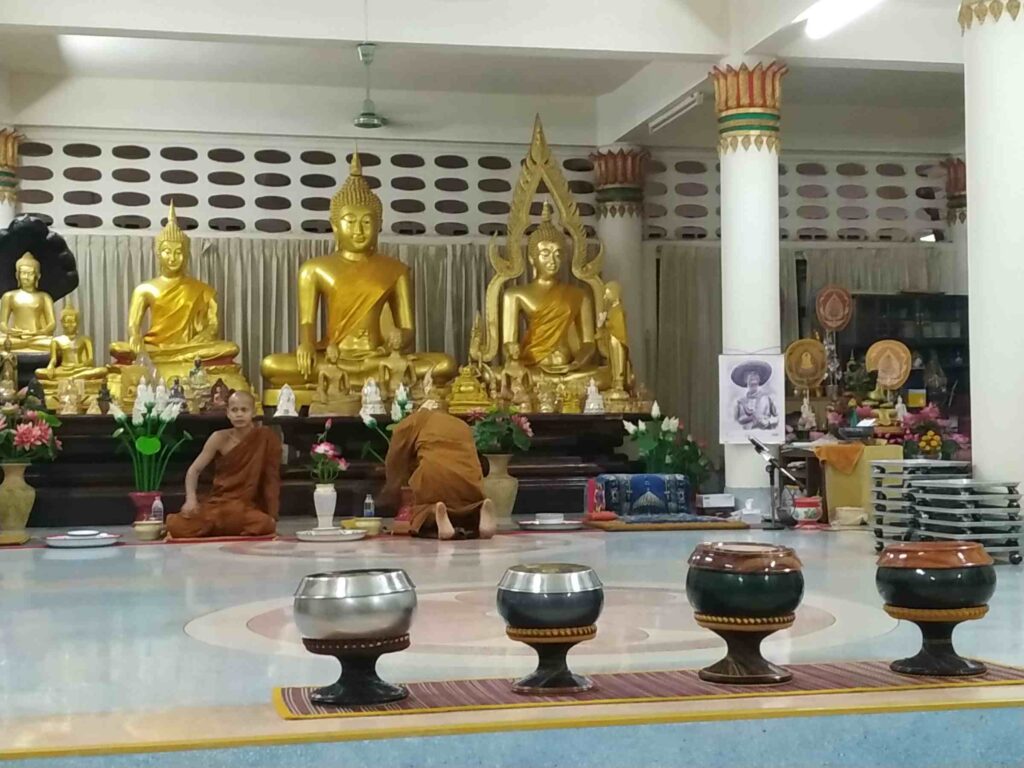 Local villagers started also arriving with there own offerings of food. The men take the rice to the monks.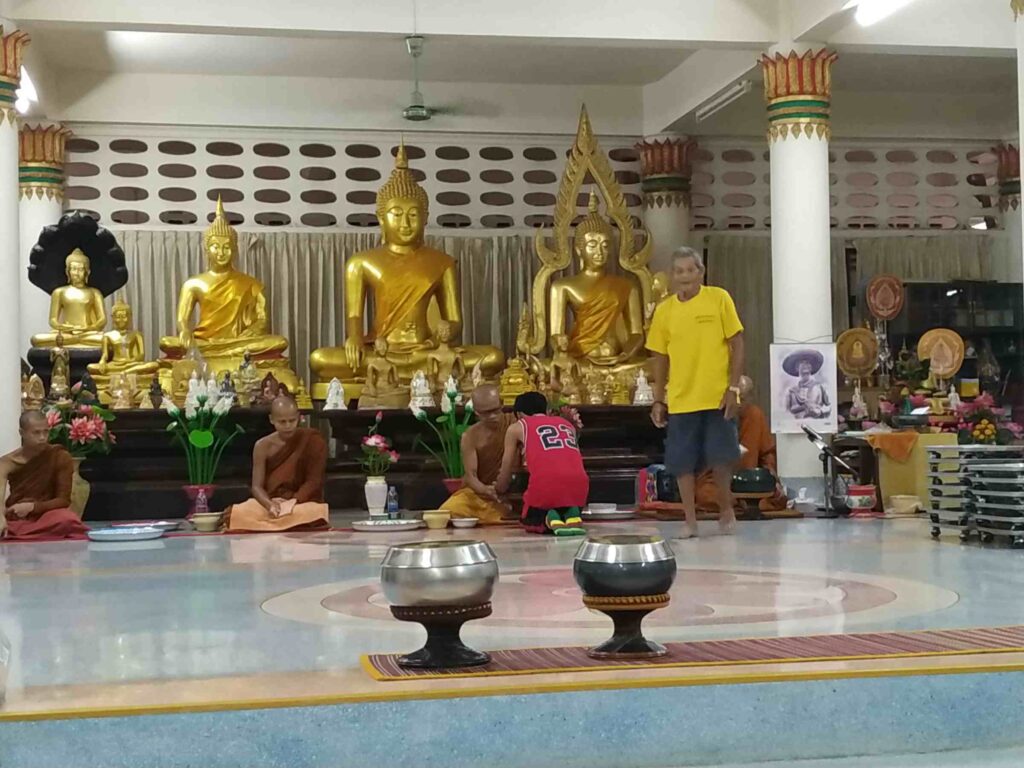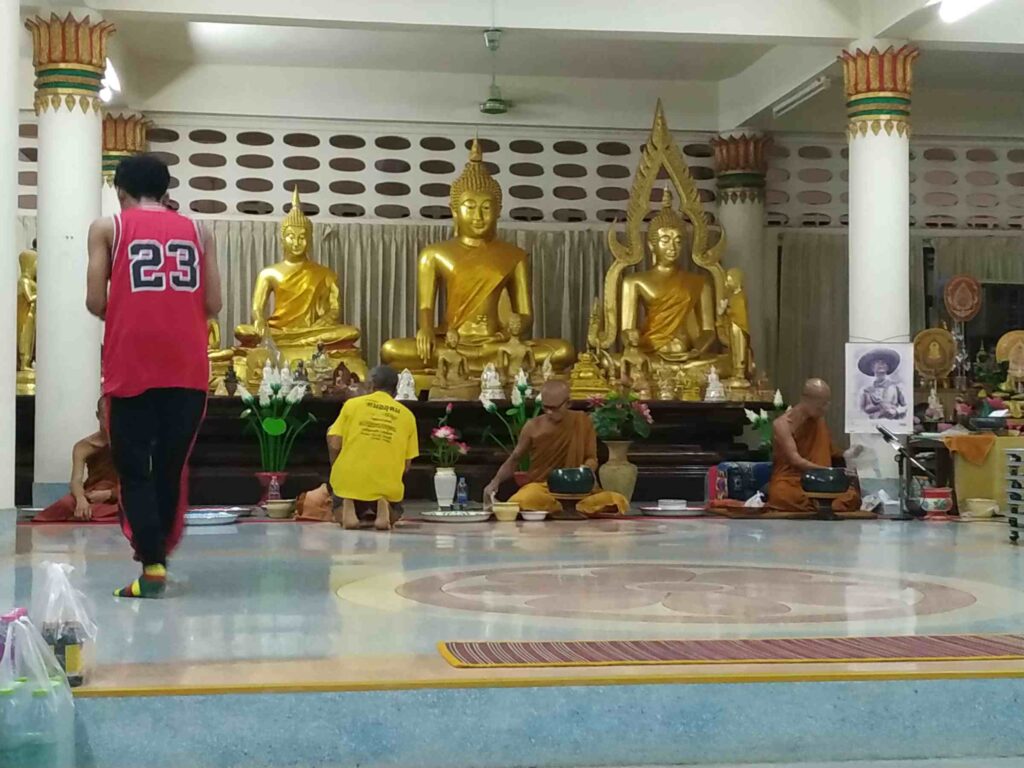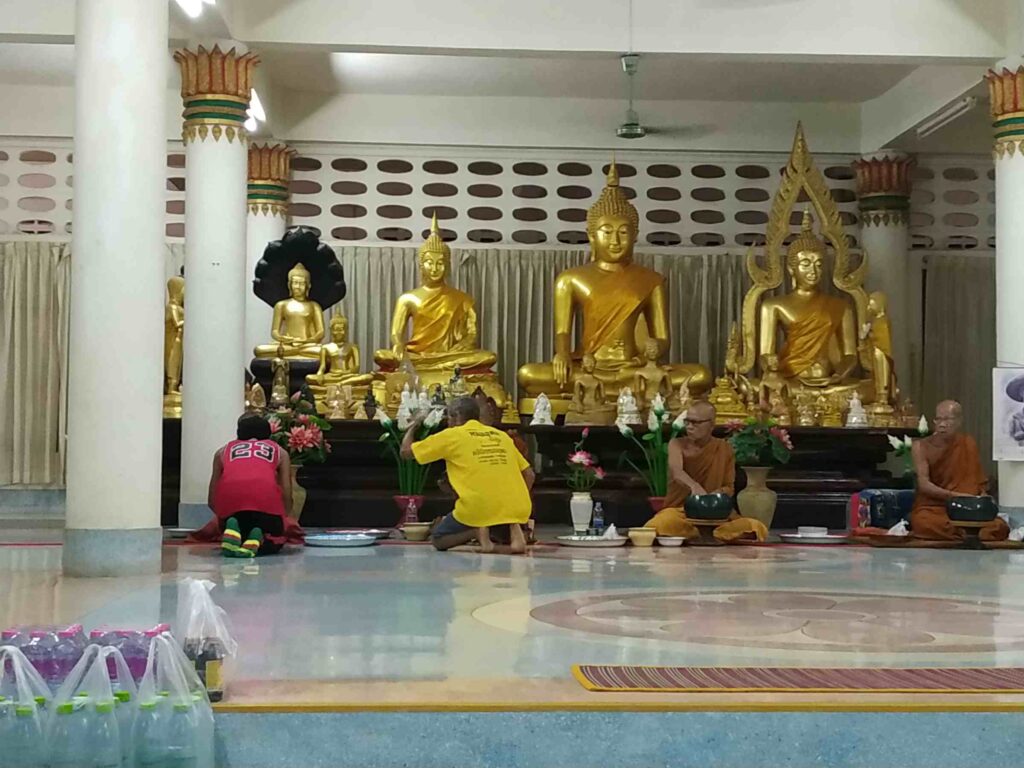 The women start plating up the offerings from the containers and bags people have donated.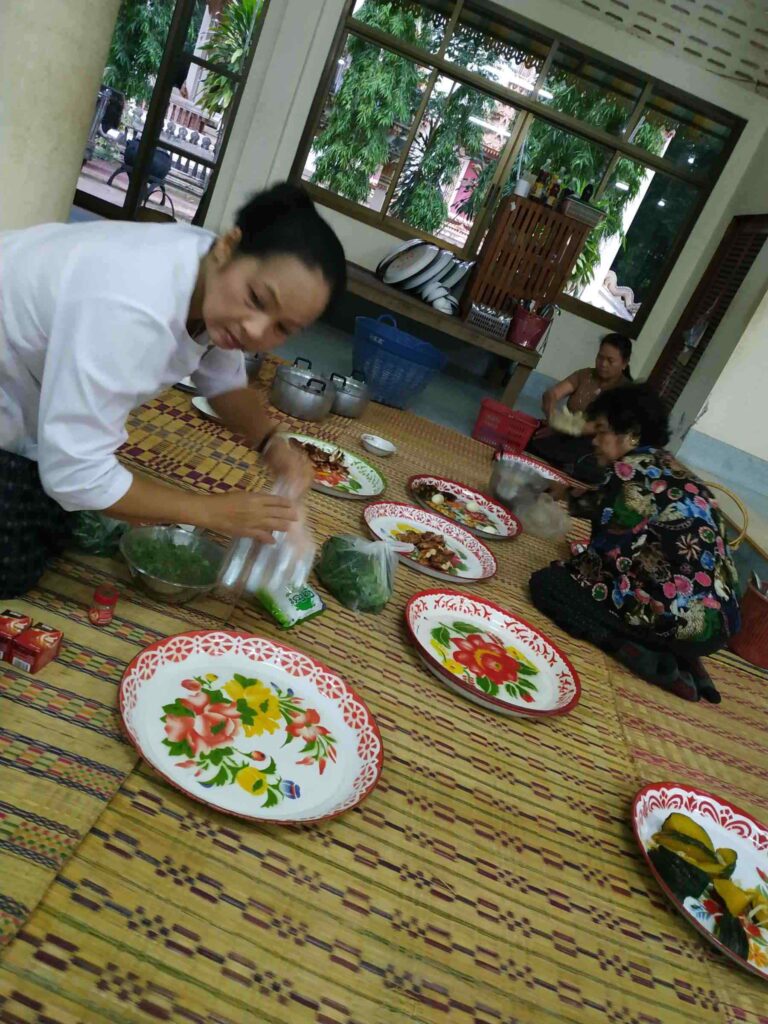 Once the food was placed into bowls it was put onto trays & then placed onto small-wheeled trays so the monks could take some food and pass it on to the next monk. Here it is important that only a man can be the one to push and take away from the monks. Women are not allowed to and women are also not allowed to touch a monk. A woman can push the food to the man who can then push to the monk.
Before they started eating the head monk said something into the microphone and done the interesting chanting that they do. I'm no expert on what they say or do all I know is it is quite hypnotic sounds.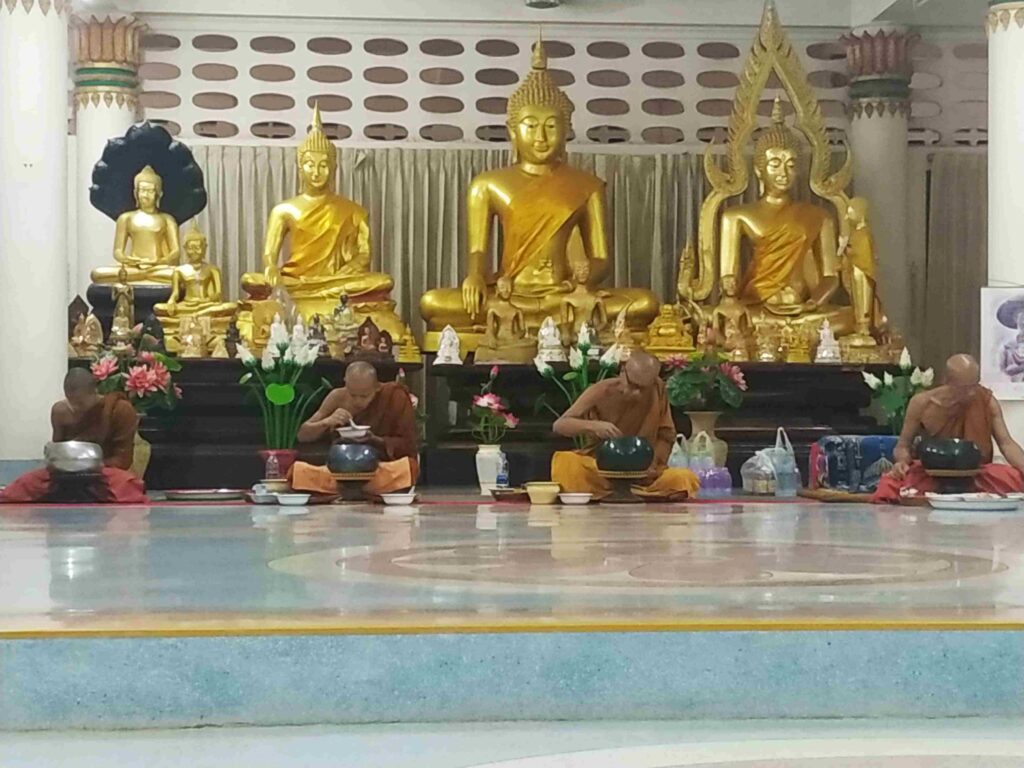 Once the monks have taken a bit of all the offerings the remaining food is then offered to anyone who is in need or at the temple. If you are poor or have no money they welcome you to join. Although the welcome extends to anybody at all. After the people eat if there is remaining food it goes to the animals.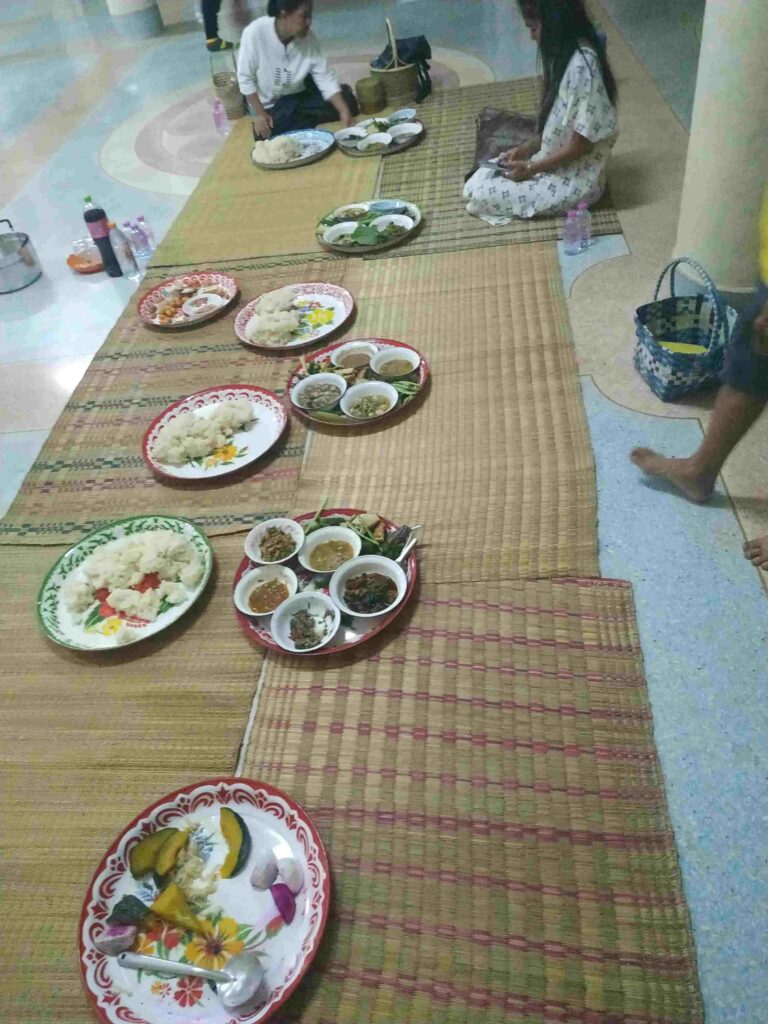 We feasted on some super local foods and I was lucky to try some very unusual fruits that were even not common to Luna as they are from deep in the jungle and not easy to find.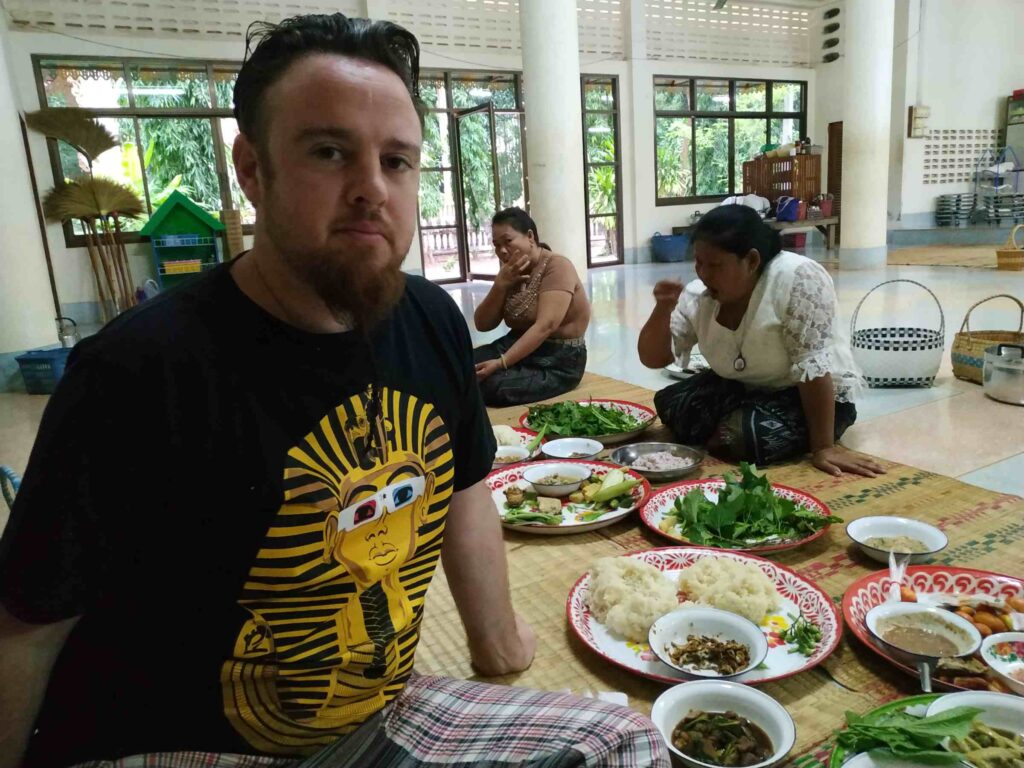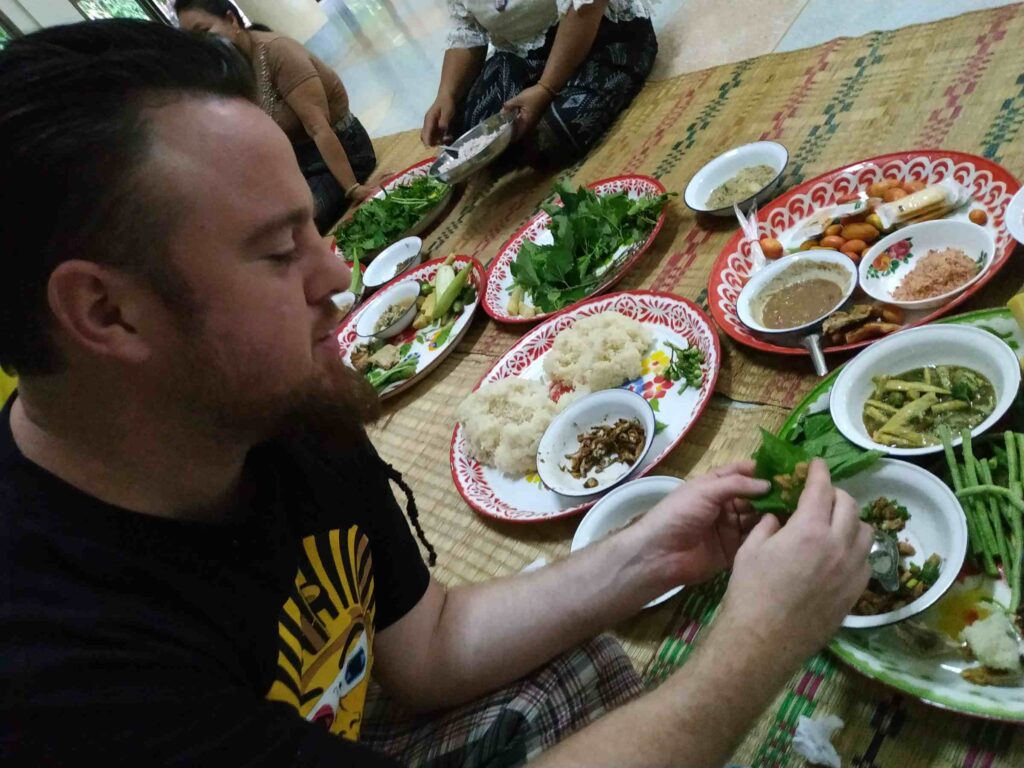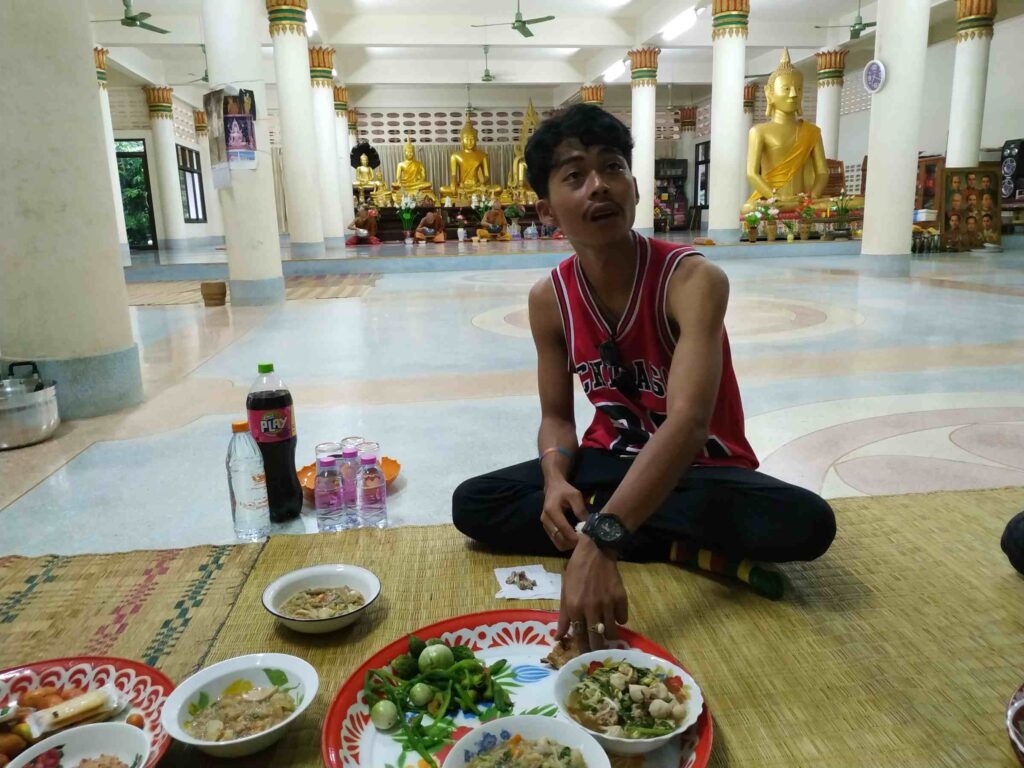 After breakfast and clean up the monk spoke with us for a while. We met 2 young twin boys who the monk adopted from a super poor family and parents were unable to take care of. The boys came to the monk as they needed 20 baht for school for the day. We gave them 100 baht each (A$4-5) and they counted the number of days that would help them for school. It was 5 days as they only need 20 baht a day.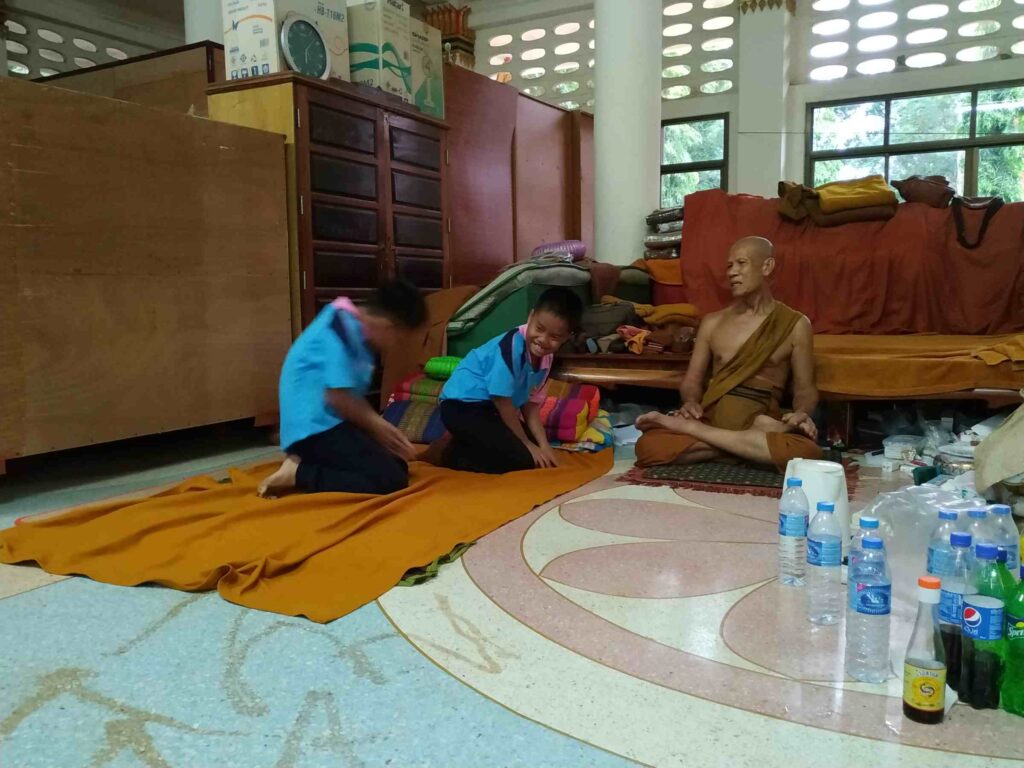 We hit the road again for another day of adventure.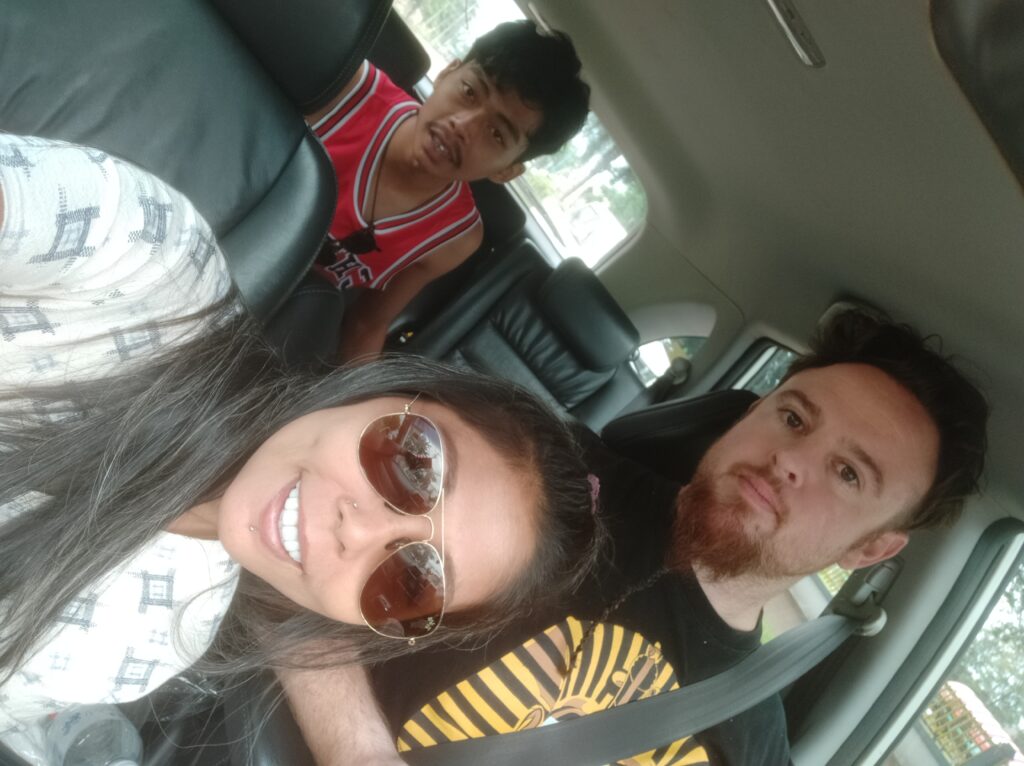 Wat Tham Pha Daen

This would have to be my favourite temple we visited. Just for the pure beauty of the landscape and massive Naka statue which looked amazing with the cloud formations of the day.
You can't drive the whole way to this temple. The road is blocked off at a car park on the way up the mountain and you must pay 20 baht (return price) to get a van up to the top. I think this is purely because there is insufficient parking at the top.
This temple had a lot of interesting wooden things and stone carvings to admire.
Once you get up further you will get to a coffee shop which has a magnificent view!

Then the gigantic Neka statue overlooking pristine treetops and the big golden rock.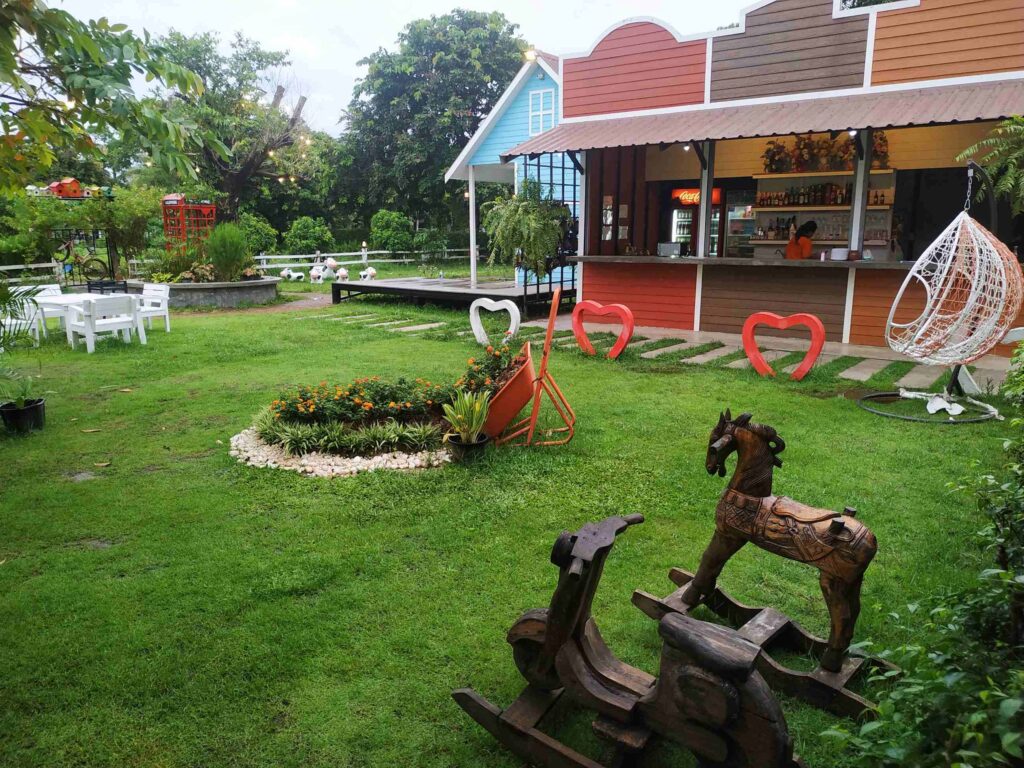 We drove past Little Farm Hug Restaurant on the way to check out the best hotels to stay near the bars but we knew we wanted to eat there. I'm so glad we did. It was the best food we had on our 4-day trip. If we were staying longer we would have gone back.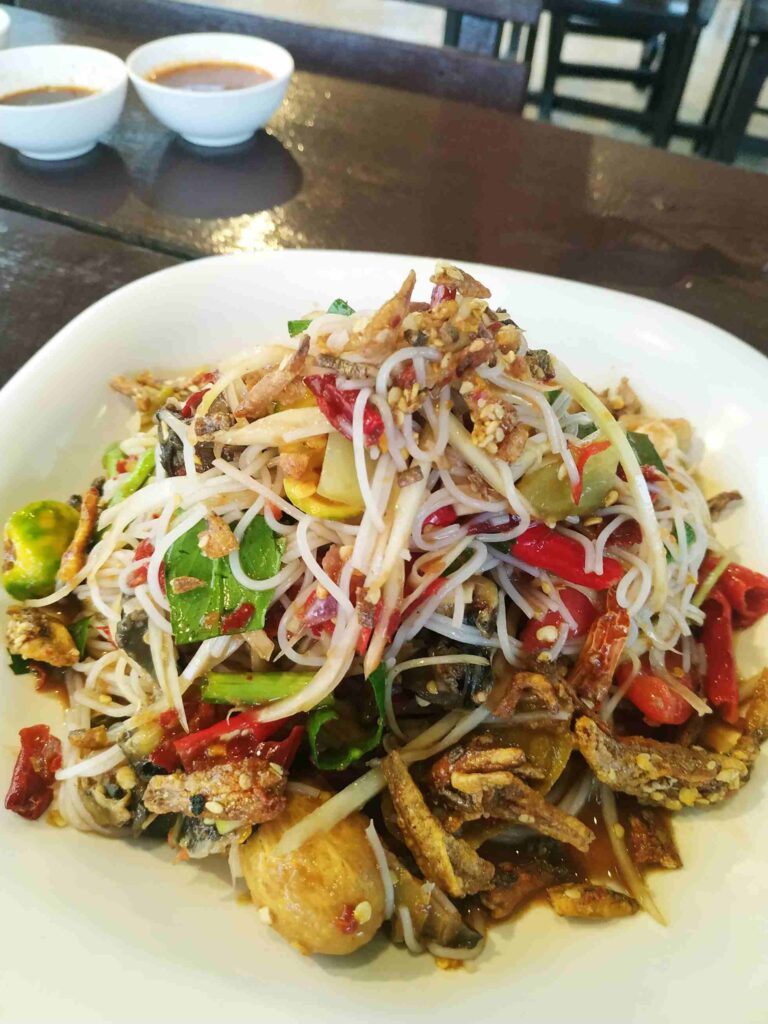 To see the full review of Little Farm Hug Click Here to open a new tab! Believe me, you want to see this very cute farm-style restaurant!
Vince Hotel – Sakon Nakhon
Originally I had planned to stay in "The Hop Inn -Sakon Nakhon" but they were fully booked. Vince hotel was just around the corner. I chose this location because it was closest to the most lively looking bars in the area and wanted to have a few brews that evening. Whilst it was a Tuesday night we did manage to find a few places close by for a few brews.
The hotel had a very fancy look with a very budget price of just 444 baht per room ($A21). Whilst I would stay there again there where a few things they could improve on that matter to me more than a nice look.
The sheets although seemed clean where stained in both rooms
The towels were so stiff they were more like exfoliating towels
There was a bit of mould in the bathroom in multiple places, Under the counter of the sink and in the shower.
The general cleanliness could use improving
If you still consider staying at Vince hotel here's
a link to cheapest price available
Or click the picture below and will search over 100 sites for the cheapest price of hotels close by!
Few Places For Some Drinks Close By
First stop was Golden Pond Coyote we sat down whilst some girls were dancing in their underwear. They looked sad and bored with only one senior citizen sitting in there not even looking at the stage. We sat for about a minute no one offered us menus or drinks the vibe wasn't there so we left. There were about 10 girls inside the bar though if you wanted to know.
Second stop not too far away was hashtag hero cafe. They had a funky theme of superheroes memorabilia everywhere. They had a solo artist playing guitar there the main reason we went in. Was quite amazed she sang western songs very well. The artwork in the men's room made me laugh but you will have to go there to see it yourself.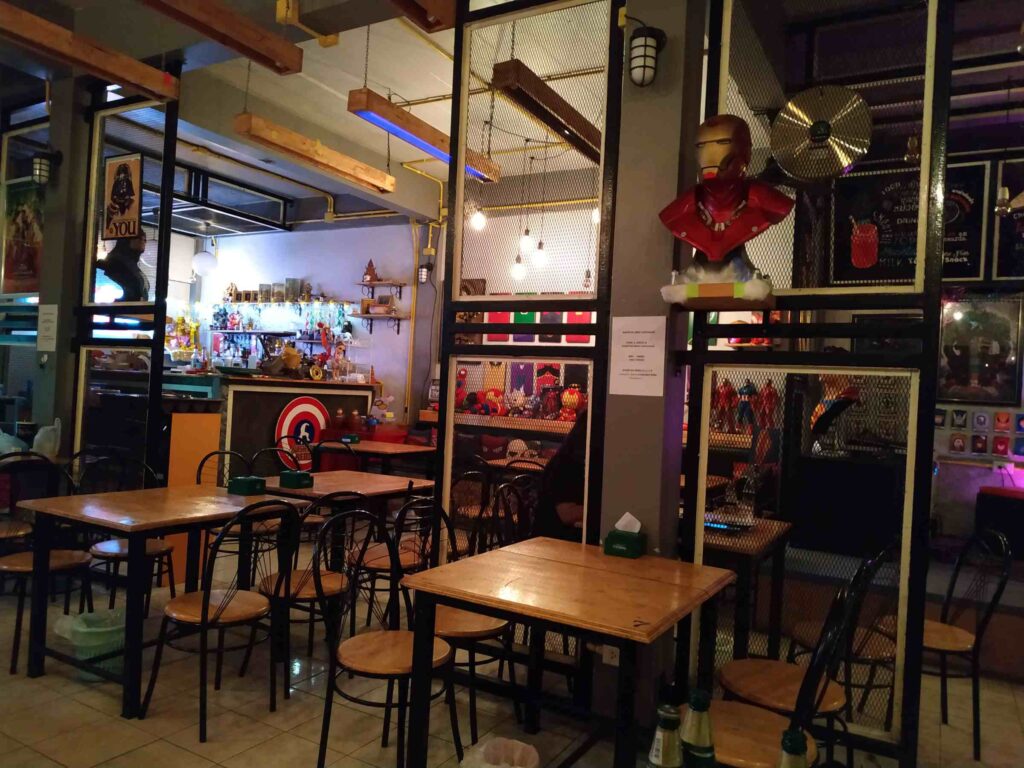 Third Stop we stopped past some big club looking thing but they where taking the signs in as we arrived not sure what it was so we skipped straight to the next place
Fourth Stop Country Road Saloon looks like on a weekend would be a great party. The outdoor seating is made of old red cinema chairs with cup holders. We where about to go back to the room and call it a night as the keyboard player/singer was not very entertaining when we heard a band start next door to our
Final Stop The Loft living bar – Had a full band play for about 90 minutes where we busted out and ordered a bottle of Sangsom and some soda had a bite to eat before turning in.
Lunch at บ้านฟ้าโปร่งสกลนคร
The feel of the restaurant is quite unique with a waterwheel and lots to look at. Whilst we dined in the air-conditioned room the decor is a very warm feeling. The food is all beautifully presented but I just found the food to be quite bland flavours. It could have been that I just drank too much whisky the night before and was in a bad mood but if you were looking for a nice venue to dine in different from the normal it's worth stopping by. Do note the price here is quite high and the coffee was not the best.
Phra That Choeng Chum
Luna was very excited to come to this temple. Very famous and holy Luna told me. They say if you don't come to this temple, you have never been to Sakon Nakhon.
By this time we arrived, I was hungover and sick of taking my goddam shoes off all the time. It was raining, I was grumpy and to be honest, I really didn't care anymore about visiting temples.
Luna took some great photos below and heart here was pretty amazing with there was still a lady painting away. It's definitely worth stopping by if you're close by! I wish I went in now I seen the photos. So close.
Udomdetwat Mansion
Next stop was to look at some old french colonial-style buildings that were built in 1933 A.D. by Vietnamese immigrants. There where actually 3 buildings not next to each other in this area. We seen 2 and later realized we missed 1.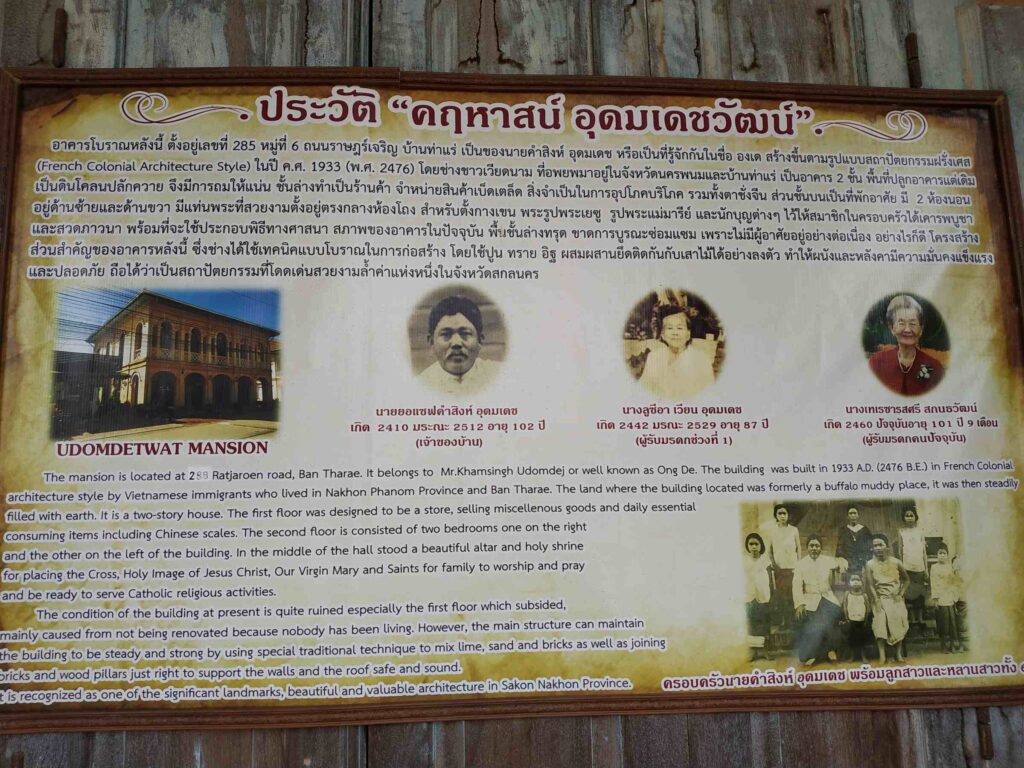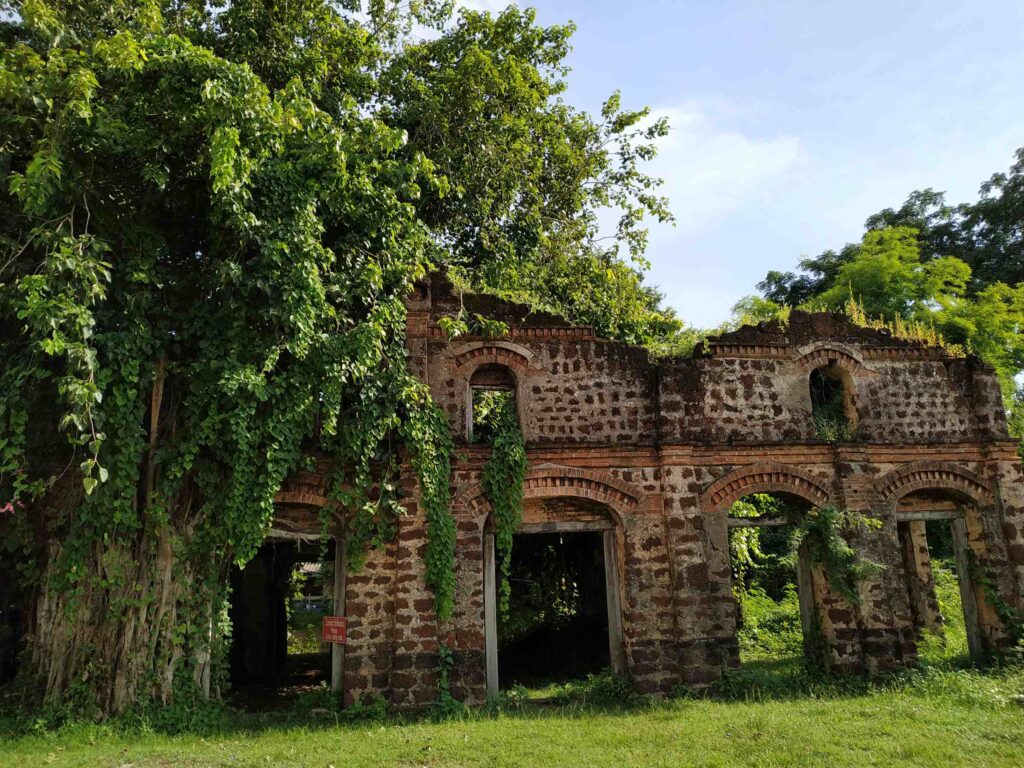 Cute Cafe Across The Road
Directly across the road from the mansion, there is a really cute cafe with great coffee should you need a rest and a coffee fix. Their bathrooms were clean but located upstairs. I think the owners really love Doraemon
Lotus Pond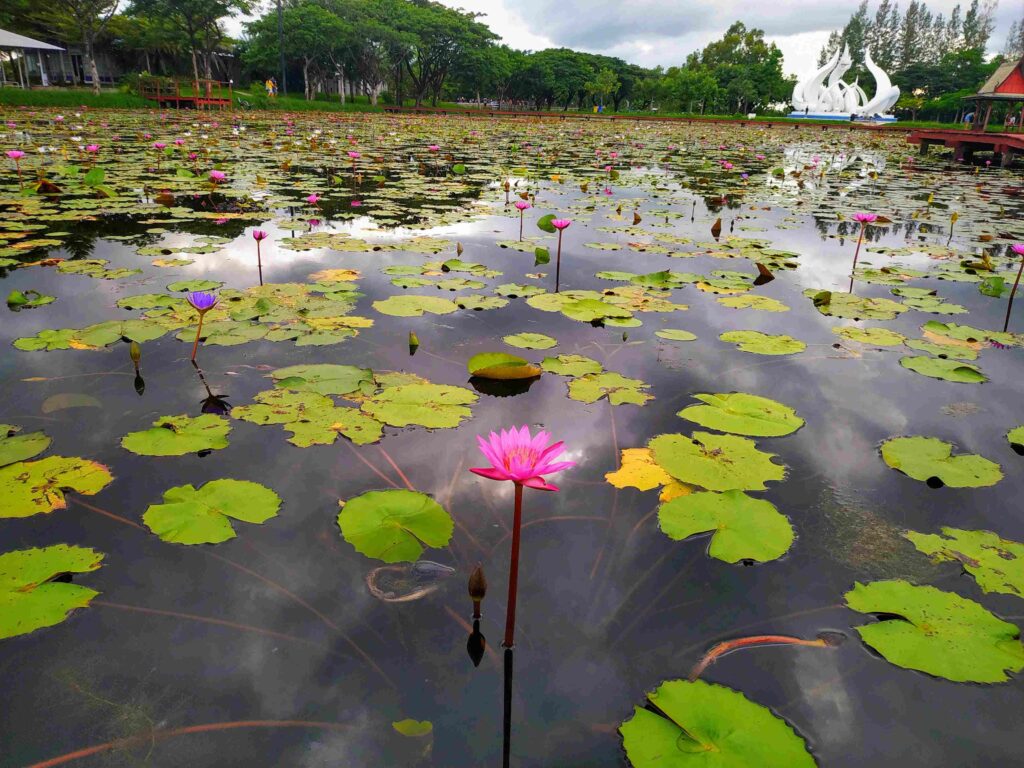 We found this by pot luck as we were driving back and stopped for a look. They have a few bridges across the centre of the lake and was quite a lot of different coloured lotus to be seen. There was another big Naka statue here also as well as a playground should you want to make a family day out.
Riverside Hotel – วังน้ำก่ำรีสอร์ท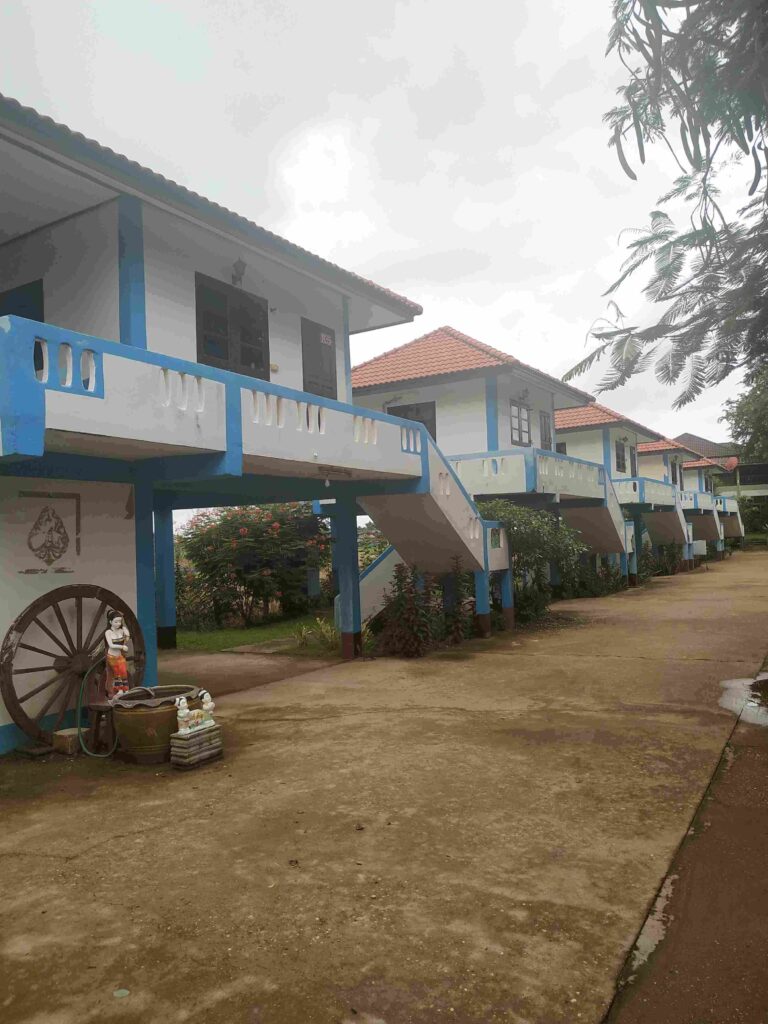 Was having trouble booking any room online. Kept giving me payment unsuccessful messages. Same booking agent let me book rooms here. Not sure what was wrong. This picture does not represent the room we stayed in. It's in the same complex. The mattress was super hard cheap Thai style. I think they made of Styrofoam. If you're looking for even a little comfort I think every other hotel is better. We were knackered after a full day outing so just showered & fell asleep and got up early and went off again. Looking at the map I thought possibly have a river view but it's all covered in the tree line.
Thailand, Laos Market Monday & Thursday
An interesting market that is open twice a week we were lucky to be there on a Thursday morning. They have a range of interesting fruits and vegetables some I have never seen before as well as lots of clothes new & second hand, Shoes, Jewelry, Old money, The list goes on. This is quite a large market I would allow at least 2 hours if you want to walk the lot.
It is definitely worth stopping by if you're here and see the 2 countries sell their wares. The stuff here is super cheap!
Open 6am – 12pm Mondays & Thursdays
although they where only just starting to pack up at 11 am in some places
I was excited to eat some Vietnamese food its not something you see a lot of in Thailand. In Australia, its become quite popular the last 5 or so years.
Wow, it was super cheap for restaurant prices! We ordered too much and ate it all and also got some Isan sausage to take away it was that good!
Read the full post with menus and photos here
Wat Phra That Phanom
After a delicious lunch, just a few streets away ventured into the temple through some amazing wooden carved door with every door a different design. They also had a different Chinese zodiac animal on the bottom of each door.
Although the temple is still under construction/ being renovated it is still a remarkable sight that can be seen all the way from the Mekong River.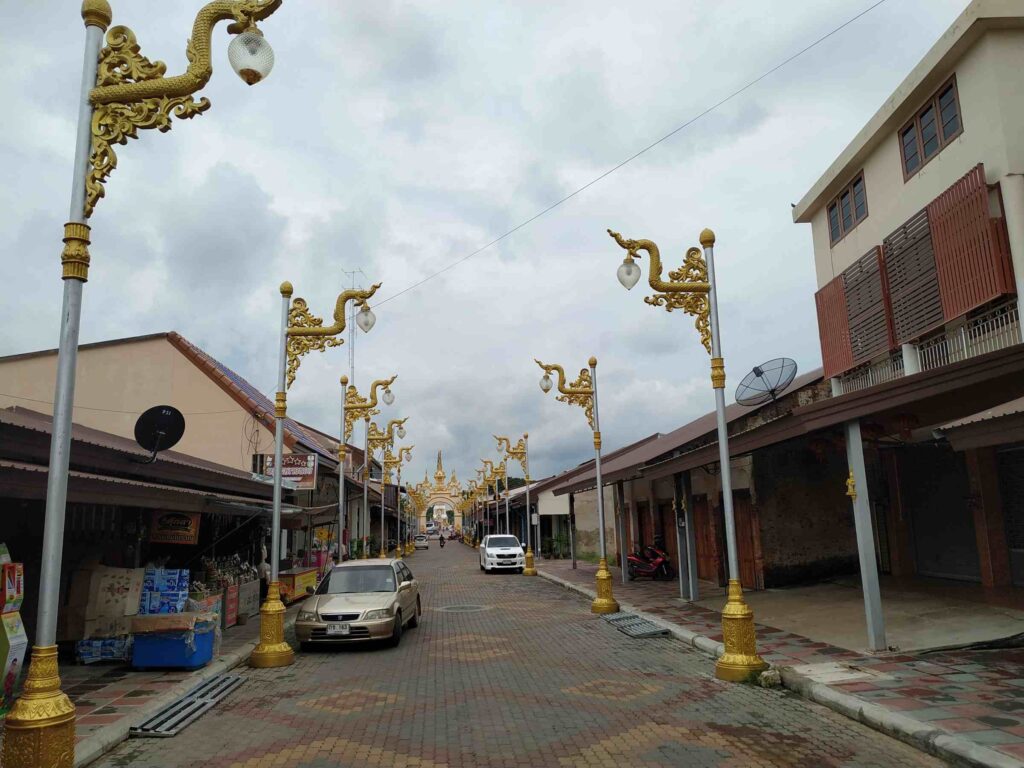 Kaeng Krabao Park
We found this park by accident. As we were driving to the next location it there was a tourist sign saying something about rapids so we took a slight detour and went and found this lovely park. I'm still not too sure what the rapids they where talking about there where a few little ripples in the Mekong River although I'm not sure that's enough to make a tourist sign for.
If you wanted a professional photo taken with the Naka statue you may be in luck. There were 2 people trying to take photos for you for a small price of 50 or 100 baht. They had a little stall with the prices on the side although they will definitely approach you before you see them. These photos did look good although we didn't get one. I'm not sure why we would want a photo of some random people standing at the statue we were looking at.
Before you reach the river from the car park there is a large section dedicated to the Chinese Zodiac signs. A perfect time to have a photo with your year of the animal. Luna got mine wrong. I think she just wants a buffalo. I'm a tiger baby!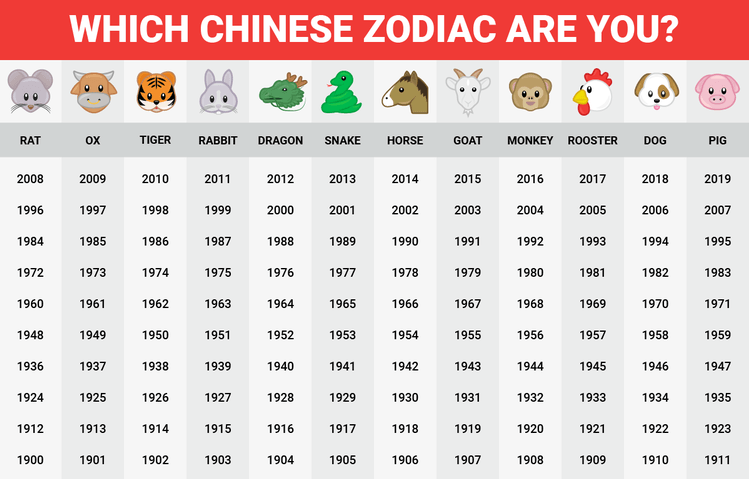 Wat Songkhon-Catholic Shrine Of The Martyrs Of Thailand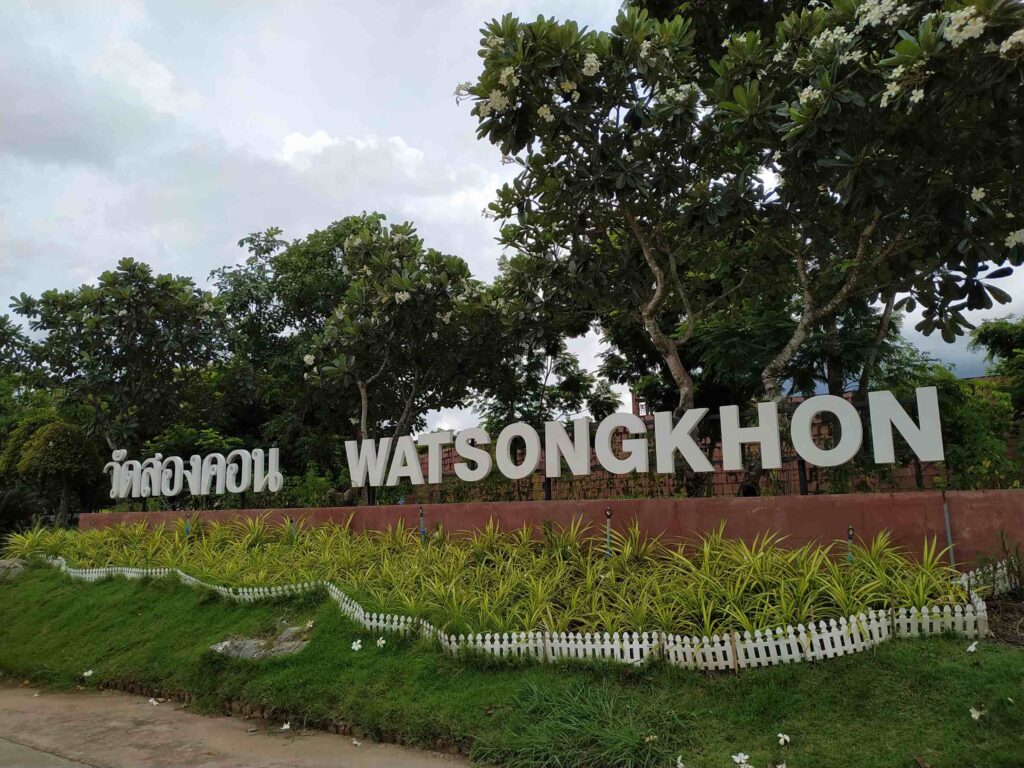 Opening Hours 8am-5pm
This was the one place Luna really wanted to visit again. She made a long bus trip with her grandma when she was a child. Luna vaguely remembered being able to walk around in the wooden houses carefully as the were old and could fall through the floor. Now they are roped off many years later to preserve.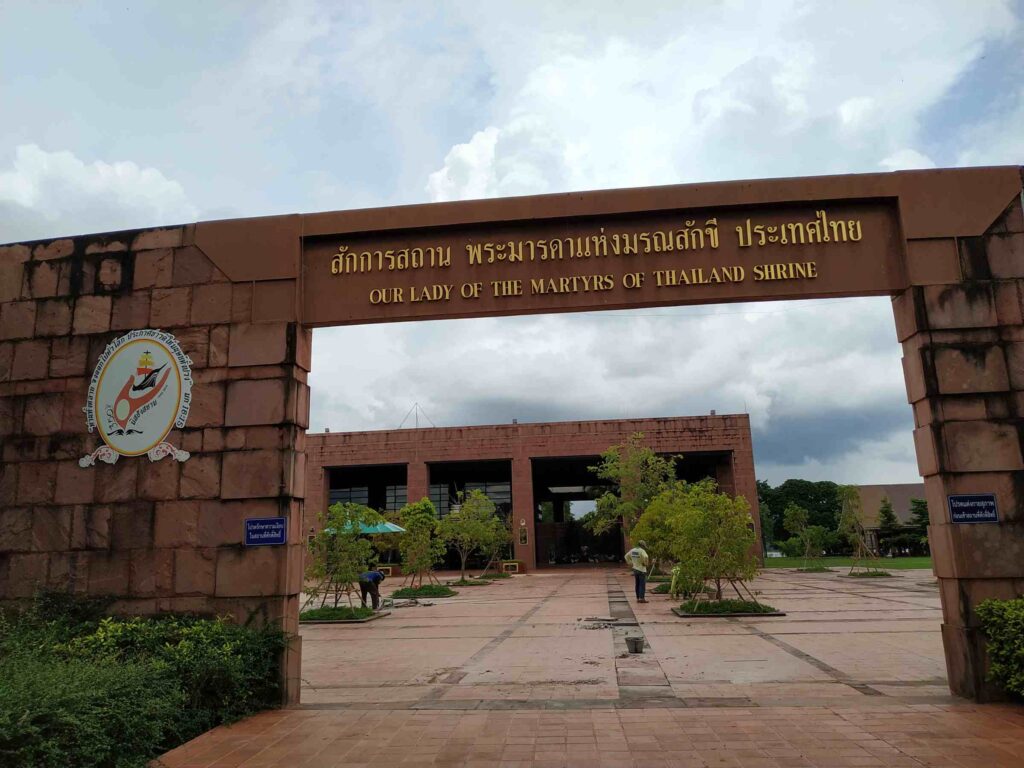 The story, as I understood it was in 1940 the police came through and demanded everyone stopped worshipping Jesus under the Catholic church. These 7 children stood up in their belief and said we would rather die than not praise Jesus. All 7 were shot dead for refusing to quit their Christian faiths. This memorial is to remember the brutal Thai history. It is known as the 7 martyrs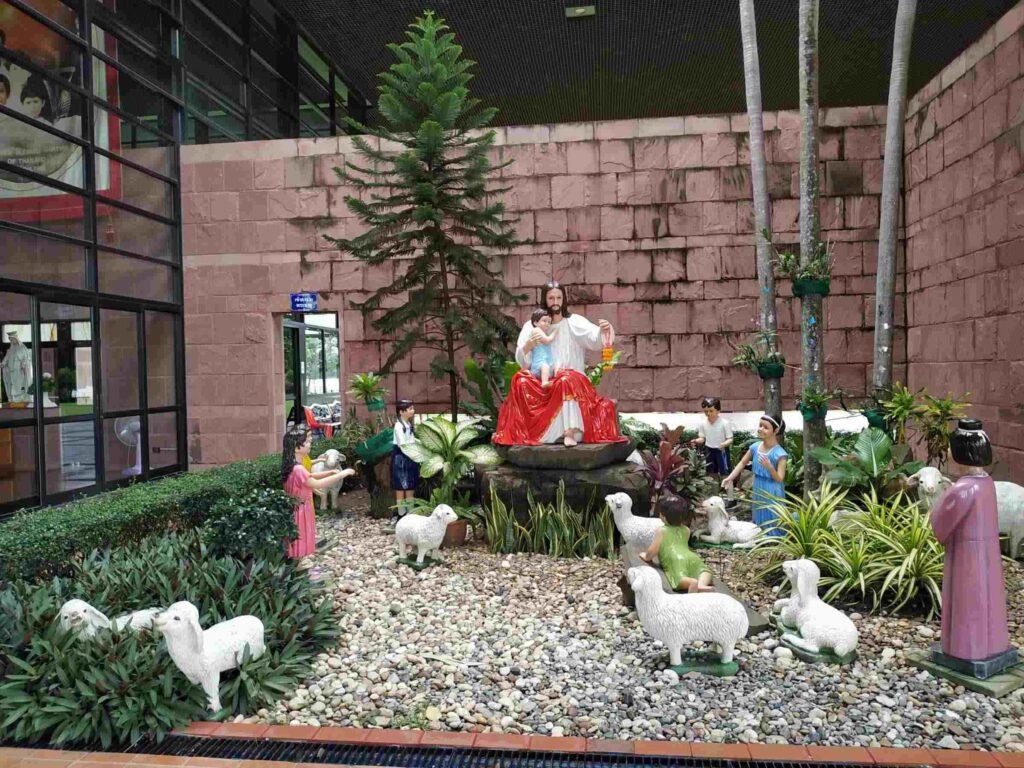 Something I translated
They are regarded by the Roman Catholic Church as the " Martyrs and Pope John Paul II were jointly proclaimed at St. Peter's Basilica on October 22, 1989.
They have preserved the wooden house that they lived in. Although it is no longer safe to go inside as Luna remembers as a young child.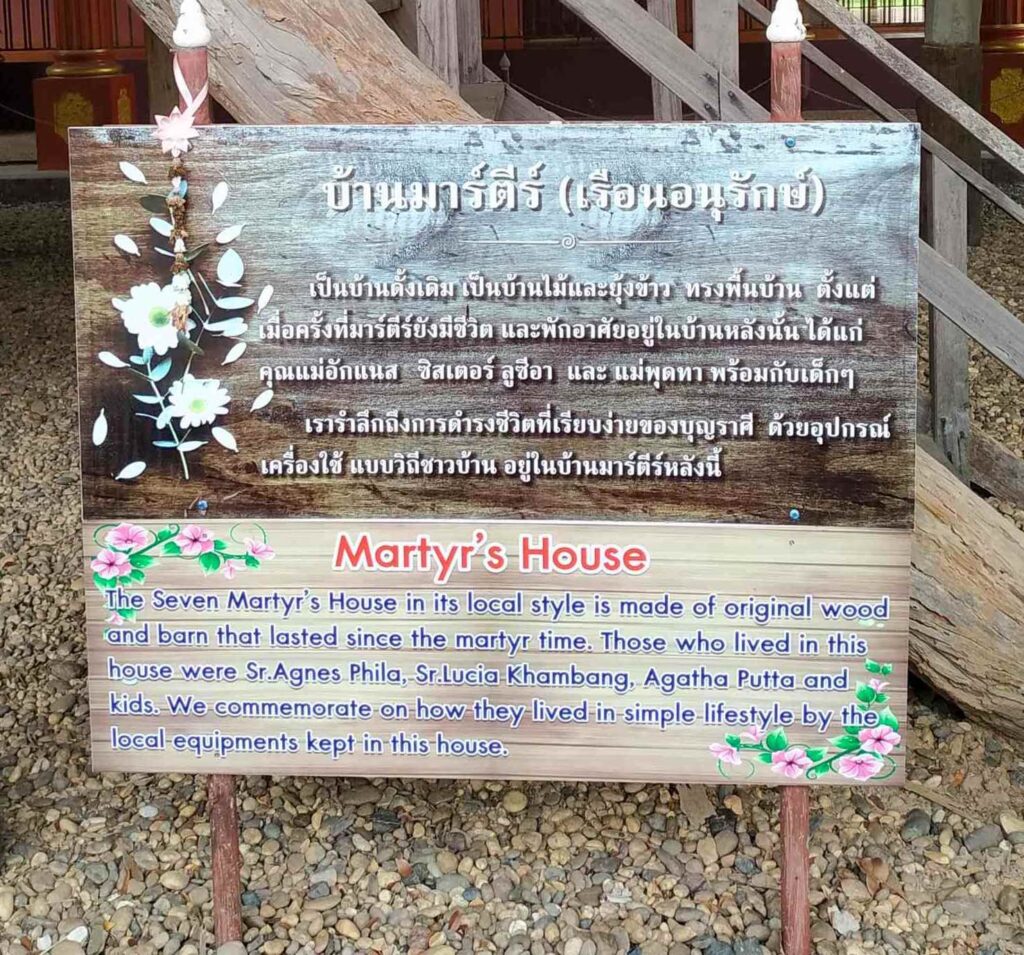 The Holy Well To Cure Sickness & Diseases
Across the road from the main entrance is where they have the holy well and another memorial with a lake.
The well was pad locked.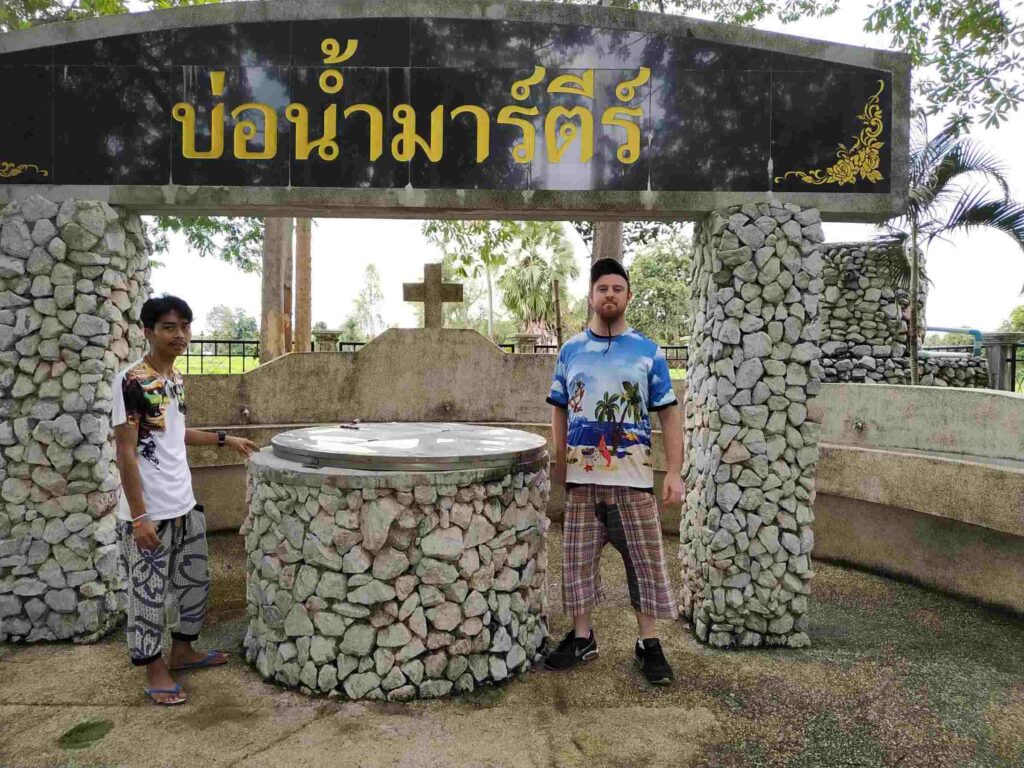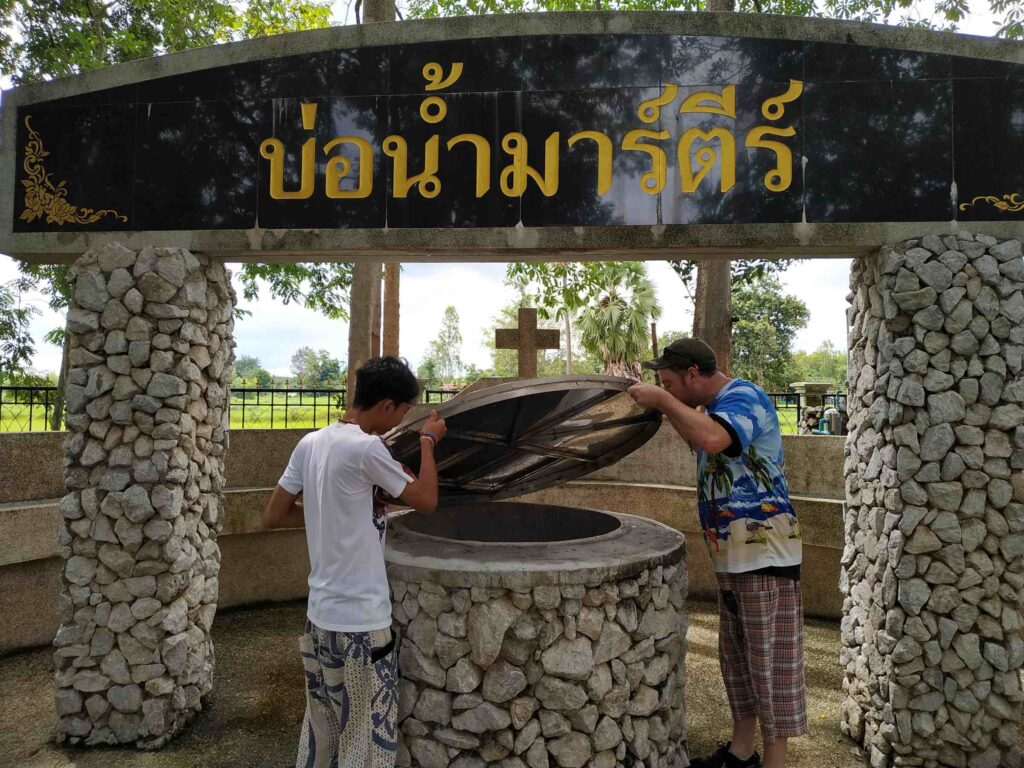 Overall a bit of interesting Thai history. If you manage to come during Mass hours I hear that have a good thrift shop. But we were too late.
We Slept In The Temple
So we had an early flight the next morning and had to leave at 4 am to get to the airport on time. We were offered a room in the Buddhist temple for the night. This was something new for me. I have never slept in a temple before.
Breakfast At King Ocha
This is a very popular and well known to locals as the place to eat breakfast. It's cheap and will fill your belly for the morning. I had the eggs and the baguette. Its quite simple food I wouldn't go as far to say it was amazing but it did the job and the locals may disagree with me as people just kept on coming.
Pin It!