Oasis Bay Party Cruise – Halong Bay Vietnam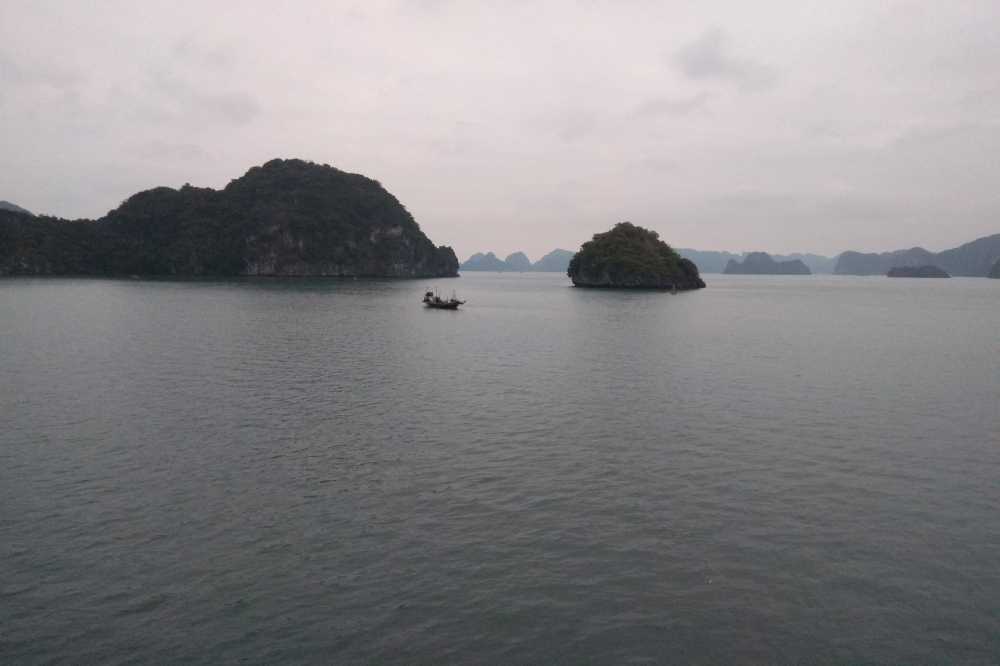 When given the chance to go look at a cruise there were so many options. One stuck out for us being party animals a party cruise what else ??
Room
From the minute we stepped onto the boat we were surprised at the luxury. We actually asked is this really our room? The price was quite high for Vietnam, but all the cruises are around the same and are inclusive of food onboard. We were happy to be surrounded by a younger crowd rather than a floating retirement village and after the briefing headed to the bar. We stocked up on beers about 12 to be precise as we temporally anchored.
Canoe Trip
We then got some canoes from a floating dock and filled it with about 10 beers left for me and Luna for the adventure though some caves and through absolutely breathe taking views. Once we returned we done about an hour of beer yoga then retired to the spa.
The facility's on Oasis Bay's Boat
The boat had 2 spas one being I think a 12 or 14 seater inside and a smaller one on the front of the ship. During the day after a beautiful cruise through the limestone coast we pulled up anchor and they inflated a massive floating trampoline on the ocean. They also encouraged us to climb to the top of the ship and jump into the ocean if we desired.
My thoughts on Halong Bay
When I was in Vietnam the first time I was doing
a solo trip. I wanted to go to Halong Bay but after talking with people in the backpackers it sounded more like a romantic place to go. I knew I would be back in Vietnam at a later date so I held off and headed towards Siagon instead. I'm glad now I waited, as I got to enjoy the extreme beauty of the Halong Bay area with someone special.
Surroundings
Unfortunately my camera at this time was not so great. The pictures really don't do the area any justice.
Drinks Menu
They asked politely that if anybody bought any alcoholic drinks on with them that they did not consume them on board. The menu was about double the price of onshore yet we are talking about $2 beers. My entire bill was around A$65 for 2 people. The receipts below you can see what we consumed 🙂
ครั้งนึงที่ได้มีโอกาสได้ล่องเรือสำราญ ปาร์ตี้​ แค่1คืนเท่านั้น​ แต่มันคือคุณภาพ​จริงๆ​ มีรถมารับถึงที่โรงแรมพนักงานบนเรือ​ เพื่อนร่วมเรือก็​ friendly มาก​ จึ้นเรือปุ๊บก็ปาร์ตี้​ปั๊บ​ มีเพื่อนใหม่มากมาย​ ได้ล่องเรือคานู ดื่มเบียร์​ สนุกสนาน​ และที่สำคัญห้องสวยมาก​ วิวก็สวย​ มีหน้าต่าง​ มีระเบียงถึงแม้ราคาจะค่อนข้างสูงสำหรับเวียดนาม​ แต่ก็เหมาะสมและราคาก็จะประมาณนี้โดยทั่วไป​ สนุกมาก​ คุ้มค่าคุ้มราคา