Milky Bay Resort – Koh Phangan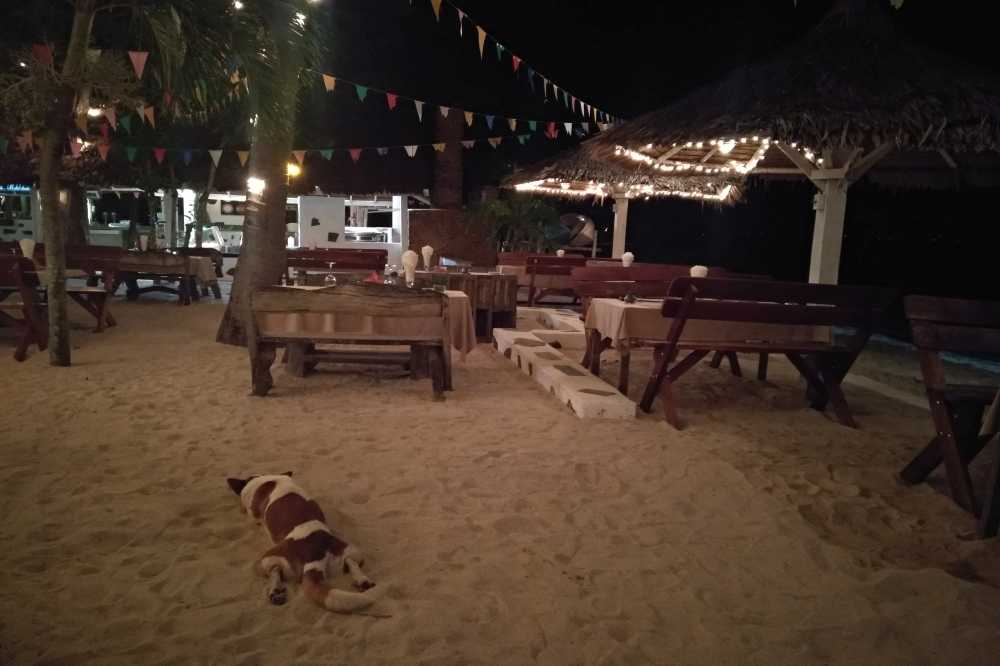 We planned to arrive about a week after full moon party had finished as were looking for some more relaxing time than to deal with lots of people. We had no place to stay and when I looked on Agoda Milky Bay Resort popped up for only A$24(600baht) a night for a beachfront hotel in a standard double. Now I've looked since and it's not that cheap, I'm not sure if it was because we were in Thailand at the time or it was just classed as low low season.
Whats close by?
Either way, if you walk to the right along the beach the first bar which is raised off the beach had a very hippy relaxing vibe with hammocks and reggae style atmosphere plus the beer was a lot cheaper here than milky. If you keep walking the same way there is a bunch of lovely restaurants and bars along the way with a small delicious sushi restaurant not too far down. Mind you the food in Milky bay was the best we had on the island. Amazing Pad Thai and one of the best chicken & cashews I have ever come across. Luna had to stop me having a 3rd serving in a row. When I love something I will keep ordering it until I pop 🙂
Driving on the island
We were able to hire A Yellow Jeep from the shop next door but was organised by the hotel and drove around the entire island. There were a few nice spots along the way but not that amazing that I would highly recommend it. It is all mainly inland driving with little coastal roads. It was convenient however to check out the other main tourist areas to map out a plan for our next trip which will likely be during the full moon party.
Driving in Thailand
Chances are you can hire a scooter or car with no valid licence just a passport. I would rather spend the $40 and buy an international licence which allows me to drive legally in Thailand. I do this mainly to not void my Travel Insurance as well as its the right thing to do. Your a guest in their country abide by the rules. Also, note I'm not sure if the test on the island but police in Bangkok and other parts of Thailand test urine for Narcotics. If you are caught with it in your system expect big problems or an empty bank account. Yes even if you're a passenger.
Is it close to Haad Rin?
Milky Bay is not close to Haad rin beach if you want to be close. It was quite an expensive taxi ride (I think 400 baht, but it has been a while) each way. There's not a lot to do here other than a beach walk and bar hop maybe more in High season or full moon party time. Although the room was quite basic the resort made up for it. It was the cleanest beach along this strip of Koh Phangan. We walked to the left on the beach until could not walk any further after checking out trying to make it to Haad Rin stopping for beers along the way. The sun and about 5km beet us.
Is Koh Phangan Paradise?
It was a shame really to see such neglect with broken bottles and rubbish along the majority of the coast, It really is a party island where there is no regard to the future of the island. Milky bay (direct in front of the resort) other than Haad Rin where the 2 spots that had nice beaches.
Prices
Hotel Grounds
Room- Standard Double
Menu & food