Pin Fah Farm – ปิ่นฟ้าฟาร์มปทุมธานี-ลาดหลุมแก้ว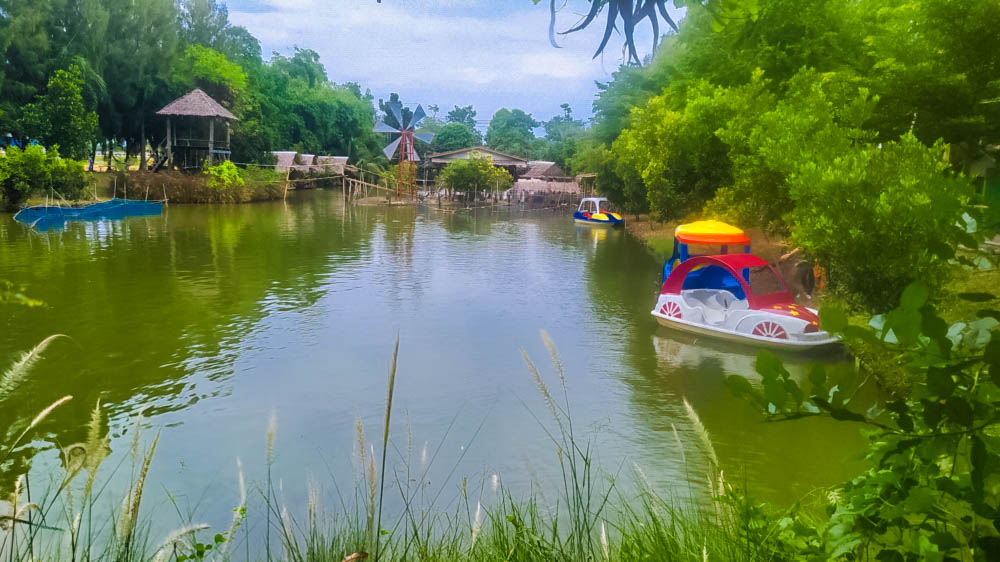 If you are looking for some nice cheap eats, coffee and farm animals you should stop past Pin Fah Farm ปิ่นฟ้าฟาร์ม. If you live in Thailand they have a large garden section too you can buy a range of plants and gardening supplies. We purchased half a dozen small cactuses to decorate our bathroom.
Great place for children
If you have children with you there is a range of activities that will keep them entertained at Pin Fah Farm. They seem to have a small water park for smaller children. It was empty at the time we visited maybe because of coveit19 situation.
They have a petting zoo at Pin Far Farm ปิ่นฟ้าฟาร์ม
There is also a small petting zoo. You can either enter the safe way through the gate or across the bamboo bridge. I was a bit sceptical of crossing the 2 pieces of bamboo tech screwed together. I thought I may end up in the pond but rest assured it held my 80+kg weight and the handrail piece that had broken off didn't stop me. Inside the petting zoo were rabbits and chickens. To the side, there is a sectioned off part of the pond with ducks and geese.
Feed the farm animals at Pin Fah
There is a range of feeding activities for the kids for around 10/20 baht (50c/$1). You are able to bottle feed Koi fish in a pond, hand-feed the pony, goats, peacocks, chickens and the ducks. If you turn left down past the koi fish feeding there is a cage of a pair of white doves. I walked down further but it seemed still under construction
Paddleboats for hire at Pin Fah Farm
If the animals are not enough to keep you entertained you can rent a paddleboat for 2 and paddle around the lake in the middle of the venue. I remember seeing a sign saying 50 baht for the boat hire but I am unsure of the conditions. I was glad to see they had a range of life jackets available as well.
The food is well priced at Pin Far Farm ปิ่นฟ้าฟาร์ม
The food was extremely cheap for a venue like this and the locals knew it. There where a lot of tables and not many of them where empty. To order food you have to write it on a piece of paper what you want and take it to the cashier pay and all the food arrived extremely fast.
They have cheese!
I was craving some cheese and indulged in their cheese balls and cheese fries with cheese sauce. So healthy I know. Then washed it down with a bowl of their famous boat noodles (black soup) and we all snacked on a plate of Satay. They have some simple food for kids as well like nuggets, chips & wings.
Seating arrangement
Pin Far Farms has tables, hammocks and sala's (gazebos) located all around the lake. Some of the sala's are over the lake so make sure you secure your valuables if you choose to sit at one of these. We almost lost a phone to the fishies.
How to order at Pin Fah Farm
If you are not with someone who can write or read Thai you can translate the menu if you have an internet connection with Google Translate App. Just select the camera icon and hold it still over the menu and it will translate on the fly. There were ample waiters if you pointed to what you wanted I'm sure they would fill out your paper for you.
Getting to Pin Fah Farm